#ERF2019 in Tweets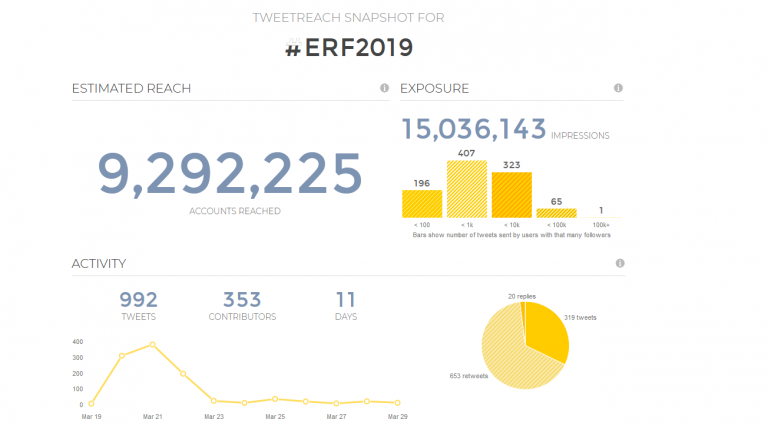 Over 900 leading scientists, companies, and policy-makers working in robotics convened at the tenth edition of the European Robotics Forum (#ERF2019) in Bucharest, Romania, on 20-22 March. This year's theme was "Robotics for Humanity, AI for the real world". #ERF2019 is the premier event for European Robotics, reaching a staggering result of over 15 million impressions on Twitter.
Hello Bucharest! The #European #Robotics Forum #ERF2019 has just started! #robotics #AI pic.twitter.com/o0RvEZNUpb

— euRobotics (@eu_Robotics) March 20, 2019
European Robotics Forum, an influential meeting of robotics community in Europe, held in Bucharest #ERF2019 pic.twitter.com/KdHzDqx7ty

— China Xinhua News (@XHNews) March 22, 2019
The 3-day programme featured:
High level keynote speakers
Official opening at #ERF2019 Bucharest. A superb panel with representatives from the European Commission, European Parliament and top industrial companies to highlight the importance of #robotics and #AI for Europe. pic.twitter.com/n5CgDULLm5

— Jesus Fernandez (@jesusfl) March 20, 2019
IAM Platform Curated Retweet:

Via: https://t.co/OAtafI8j1D

We are today at #ERF2019 with eu_Robotics and RoboticsEU #AI #Data #Robotics #collaboration opening plenary pic.twitter.com/WO9F2NHbck#IAMPlatform#TopInfluence#ArtificialIntelligence

— IAM Platform (@InfoProNetwork) March 20, 2019
Over 50 panel discussions and workshops
How many times have you heard about the #Robotics Revolution!? Probably a lot if you were in #Bucharest this week.

Discover how #FundingBox team spread the #FundingGrowth in robotics at the #ERF2019 with @RobotUnion_EU, #RIMA, @AI4EU & @L4MS_EU: https://t.co/u212qN0JXk

— FundingBox (@FundingBox) March 22, 2019
Some impressions of our booth and workshop at #ERF2019. If you couldn't make it or want to know more about #robmosys and #funding opportunities in our #opencall, join our next events in Barcelona on April 11 & 12 https://t.co/RTeGC9O2UF pic.twitter.com/ZuXXwdLPAD

— RobMoSys (@RobMoSys) March 24, 2019
Nice interactive tool #WordCloud at#ERF2019 WS on #Robotics, #digitiziation and #Security by @eu_trinity #DIH showing immediate audience feedback on question:
What are the needs & #challenges for robotics, #digital #tools and cyber #security in #Agile #Production?@eu_Robotics pic.twitter.com/ytRP6D07w6

— Thilo Zimmermann (@ThiloZimmermann) March 20, 2019
Some 50 robots roaming the exhibit floor at the JW Marriott Bucharest. Watch the Cordis Magazine exhibition video:
We've met so many awesome robots at the European #Robotics Forum #ERF2019.
Here's a quick video recap

In the meantime, check out our latest #ResultPacks on #EUfunded #Robotics research
https://t.co/7jYZVAzwxZ pic.twitter.com/SLH81gPW5N

— EU Research Results (@CORDIS_EU) March 22, 2019
Cool robots at #Erf2019 @IntellRobotLabs pic.twitter.com/2yD0TJRLOf

— Francisco Martín (@Fmrico) March 21, 2019
Children from various schools visiting the exhibition
Inspiring the next generation of roboticists at #ERF2019 with @eu_Robotics @ShefRobotics @shefcompsci and @TheAMRC pic.twitter.com/A0kRi6UBjh

— James Law (@Dr_J_Law) March 21, 2019
Bogdan coaching the next generation of roboticists at the European Robotics Forum 2019 #eurobotics #ERF2019 #elektrobit #rovislab #robotics #ArtificialIntelligence #autonomousdriving #SelfDrivingCars #MachineLearning pic.twitter.com/K9qndkYKwf

— ROVIS Lab (@LabRovis) March 21, 2019
The first edition of the charity Roborun
Fresh Running: Me Running EU adventure, leading @eu_Robotics RoboRun, at ERF2019, Bucharest. Stage 25/28 b4 11pm 29.3.2019 for @RSVP_West_Mids + @FaceEquality pic.twitter.com/wFsf8hyrp8

— Steve Doswell (@stevedoswell) March 21, 2019
During #ERF2019 we cherished those who made ERF what it is today - the organisers of 10 editions of ERF, during the reception at the Patriarchate Palace.
Attending to the Welcome Reception at the Palace of Patriarchate, reviewing the history of ERF inside Robotics in Europe #ERF2019 @IntellRobotLabs pic.twitter.com/p6IcpYfoPX

— Francisco Martín (@Fmrico) March 20, 2019
The euRobotics Awards Ceremony celebrated the best robotics developments, putting in the spotlight the European Robotics League, PhD Georges Giralt, Technology Transfer and Entrepreneurship Awardees
What a great evening yesterday starting with Reinhard & Steve open the #euRobotics Awards Ceremony
at #ERF2019 Gala dinner and ending with traditional #Romanian dancers.
Kudos for a fantastic organisation of #ERF2019 in #Bucharest, #Romania. pic.twitter.com/GuXwesf0D2

— Thilo Zimmermann (@ThiloZimmermann) March 22, 2019
Fantastic Awards Ceremony for the #ERF2019! Enjoying the typical #Romanian dance calusari, with REEM-C dressed accordingly pic.twitter.com/b9E4gbJOLR

— PAL Robotics (@PALRobotics) March 21, 2019
Thank you #ERF2019, see you at #ERF2020 in Malaga, Spain!
#ERF2019, it has been amazing to be part of this once again! Time to say goodbye to #Bucharest, Romania, and to start looking forward to the next edition in #Málaga, Spain! #ERF2020 pic.twitter.com/J5mfVXxCOG

— PAL Robotics (@PALRobotics) March 23, 2019
Thank you #ERF2019! Enjoy the photo gallery and see you at #ERF2020, in Malaga, Spain! https://t.co/XiHxZL3c3Q #robotics #robots pic.twitter.com/8UwScVNvTA

— euRobotics (@eu_Robotics) March 25, 2019
Check the best Twitter moments by one of our experts, Thilo Zimmerman:
This is my twitter moment "#ERF2019 in Bucharest, #Romania"
summarizing all my tweets from the 10th #European #Robotics Forum,
the most influential meeting of the robotics community in #Europe, organized by @eu_Robotics/@SPARCrobotics & @asociatiaecivis.https://t.co/YQFoX580l7

— Thilo Zimmermann (@ThiloZimmermann) March 25, 2019