Robothon
The Robothon® 2021 goes DIGITAL!

Why? Our vision is to offer all international academics and young professionals the chance to participate in Robothon® 2021 despite the pandemic and travel restrictions!
From 22-24 June 2021 munich_i and this year's automatica sprint will take place - as a temporary solution to the regular automatica 2022 - in a hybrid version. In order to enjoy a wider reach and to meet the demand of international teams, we decided to hold the Robothon® 100 % digital.
Therefore, we put our heads together and came up with a new, exciting concept for the digital realization!



Horizon Europe Info Days 2021
The 10-day event will give prospective applicants and other stakeholders of EU research and innovation the opportunity to get information and ask questions about main funding instruments, processes of Horizon Europe and what is new.
The Horizon Europe Info days will be open for participation without prior registration.

A full range of Info days
The Horizon Europe Info days will address 9 themes, each featuring a programme of exclusive discussions and hands-on sessions dedicated to a different cluster or part of the new programme.
- Cluster 1 - Health
- Cluster 2 - Culture, Creativity & Inclusive Society
- Cluster 3 - Civil Security for Society
- Cluster 4 - Digital, Industry & Space
- Cluster 5 - Climate, Energy & Mobility
- Cluster 6 - Food, Bioeconomy, Natural Resources, Agriculture & Environment
- ERA & Widening
- Infrastructures
- The Marie Skłodowska-Curie Actions: what's new under Horizon Europe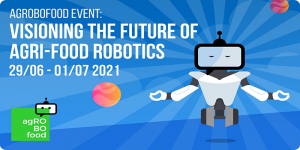 What is the future of robotics in the EU and beyond?
What is the future of agri-food robotics in Europe and beyond? An expert panel discusses the opportunities and challenges of the domain!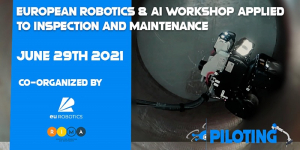 European Robotics & AI workshop applied to Inspection and Maintenance
This Workshop will be oriented to present an overview of all active European Robotics & AI projects that apply Robotics and AI technologies to Inspection and Maintenance activities of any sector or application.

The event is targeted to any actor of the I&M value chain: asset owners, inspection service providers, robotics and/or AI companies with an interest in I&M industry, technological developers for I&M industry (sensors, tools, SW, etc.), and any other industrial actor with interest in I&M applications.

The agenda of the webinar is the following:

10:00-10:15 Welcome

10:15-10:30 Multidomain

10:15-10:30 PILOTING (https://piloting-project.eu/)
10:30-11:15 Ships and Ports

10:30-10:45 ROBINS (https://www.robins-project.eu/)
10:45-11:00 RAPID (https://rapid2020.eu/)
11:00-11:15 BUGWRIGHT2 (https://www.bugwright2.eu/)
11:15-11:30 Electrical distribution

11:15-11:30 AERIAL-CORE (https://aerial-core.eu/)
11:30-12:15 Civil Infrastructure

11:30-11:45 RESIST (https://www.resistproject.eu/)
11:45-12:00 PANOPTIS (http://www.panoptis.eu/)
12:00-12:15 OMICRON (https://cordis.europa.eu/project/id/955269)
12:15-12:30 Oil&Gas sector

12:15-12:30 HYFLIERS (https://www.oulu.fi/hyfliers/)
12:30-12:45 Airports

12:30-12:45 5DAEROSAFE (https://5d-aerosafe.eu/)
12:45-13:15 Renewable energy infrastructure

12:45-13:00 DURABLE (https://www.durableproject.eu/)
13:00-13:15 ATLANTIS (https://www.atlantis-h2020.eu/)
13:15-14:15 Promoting Robotics in I&M applications

13:15-13:30 RIMA (https://rimanetwork.eu/)
13:30-13:45 METRICS (https://metricsproject.eu/inspection-maintenance/)
13:45-14:00 AERO-TRAIN (https://www.aerotrain-etn.eu/)
14:00-14:15 ROBOTICS4EU (https://www.robotics4eu.eu)
14:15-14:30 Conclusions and farewell

This online Workshop is part of PILOTING project activities. PILOTING is an H2020 project developing advanced robotics and AI technologies applied to the Inspection & Maintenance (I&M) industry. More info at: https://piloting-project.eu/

Webinar connection details will be sent by email previously to the workshop date.

**Workshop co-organized by the euRobotics Aerial Robotics and RIMA H2020 Project (through the Inspection and Maintenance, and Aerial Robotics Topic Groups).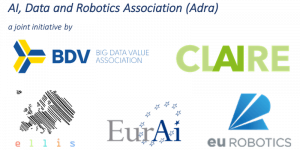 Horizon Europe Info Day: Cluster 4 AI, Data and Robotics
Horizon Europe Info Day: Cluster 4 AI, Data and Robotics
Wednesday 21st July 9:30 - 13:00h CEST

Infoday and brokerage event organized by the AI, Data and Robotics Association (Adra) in collaboration with the European Commission and the IDEAL-ist network.

Programme (all times CEST)

09:30 - 09:45 - Welcome and Presentation AI, Data and Robotics Association (Adra)
Morten Irgens - Vice President Adra

09:45 - 11:15 - Presentation of topics (see below) by the European Commission and Q&A
Cécile Huet - Deputy Head of Unit. Robotics & Artificial Intelligence, DG CONNECT, European Commission
Stefano Bertolo - Scientific Programme Manager Data Policy and Innovation, DG CONNECT, European Commission
Kimmo Rossi - Head of Sector Research and Innovation Execution in the Data Value Chain, DG CONNECT, European Commission

11:15 - 11:30 - Presentation Idealist and Brokerage tool
Edina Nemeth - Ideal-ist, the network of National Contact Points for Digital

11:30 - 13:00 - Pitches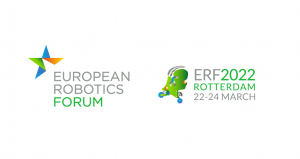 European Robotics Forum 2022 (#ERF2022)
The European Robotics Forum is the most influential meeting of the robotics community in Europe. Over 1000 European robotics top experts are expected to attend the 13th edition of the conference. Further information can be found here https://erf2022.eu/