#ERF2020 report in Tweets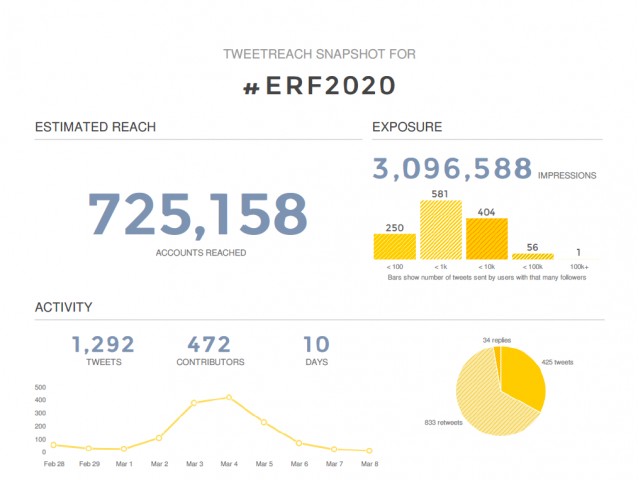 The Trade Fair and Congress Centre of Malaga (FYCMA) hosted the 11th Annual European Robotics Forum 'Future Robotics: Unlocking Human Potential' on 3-5 March. #ERF2020 put Spain at the heart of Europe's most influential forum for robotics and artificial intelligence (AI), reaching an outstanding result of over 3 million impressions on Twitter. Let's highlight some of them!
A new decade of the European Robotics Forum started at ERF2020, in Malaga:
European Robotics Forum 2020 (#ERF2020) - 10 years video - YouTube https://t.co/Vm7iKrQacD

— Timo Rainio (@timorainio) March 7, 2020
Welcome to Málaga, #ERF2020! pic.twitter.com/4N31sbAkGx

— euRobotics (@eu_Robotics) March 3, 2020
#Málaga, epicentro de la #Robótica gracias a un congreso organizado por la UMA. Se trata del 'European Robotics Forum' (ERF), que concentra a un millar de expertos en el @Fycma para abordar las novedades en los campos relacionados con la inteligencia artificial.#ERF2020 pic.twitter.com/1akTUlqLgI

— José Ángel Narváez (@RectorNarvaez) March 4, 2020
High level keynote speakers opened #ERF2020:
The 11th edition of the European #Robotics Forum (#ERF2020) 'Future Robotics: Unlocking Human Potential' put ???????? at the heart of Europe's most influential meeting for ???? & artificial intelligence (#AI)
???? https://t.co/ecqWUHlGuU pic.twitter.com/tXtulZQZe9

— euRobotics (@eu_Robotics) March 18, 2020
Greetings from #ERF2020 in Malaga! ???????? Thank you to these inspiring high-level speakers for this opening session ????
Let's dive into the #Robotics and #SmartTech revolution ???? pic.twitter.com/usVrJ4s4oU

— Sherlock H2020 Project (@SherlockH2020) March 3, 2020
@aatb_ch artist with Robots #ERF2020 @eu_Robotics @Fycma pic.twitter.com/dQYoPGUOq0

— Francesco Ferro (@FerroFrancescoE) March 3, 2020
At the #ERF2020 in times of Corona. Some presentations are live and some made remotely. Great work by the organizers in getting remote access set up on such short notice. pic.twitter.com/IL2OOGK4bz

— Jose Saenz (@JoseSaenz_5) March 3, 2020
A new PPP in converging #technologies #AI, #Data & #robotics will be established by the European Commission - announced at #ERF2020 pic.twitter.com/U8QwE1Js8z

— euRobotics (@eu_Robotics) March 3, 2020
Remote connection talk by Marina Bill from @ABBRobotics #erf2020 #womeninrobotics pic.twitter.com/AtUMzcBt9f

— Antonia Tzemanaki (@DrDanielGiskard) March 4, 2020
I totally agree with @negrescuvictor Europe must be more proactive with the development of robotics #erf2020 pic.twitter.com/jPzXViGOFP

— Cristina Andersson (@winninghelix) March 3, 2020
ERF2020 featured several novelties:
"Women in Robotics" Panel, as one of the over 70 workshops of the agenda
Youngest speaker at @eu_Robotics #erf2020 with an amazing panel of #inspirational women #AvantiSharma #girlsintech #girlsinrobotics #robotics #luxembourg pic.twitter.com/qNq0GvQY5c

— Workshop4Me (@Workshop4Me) March 4, 2020
Speakers' corner presentations by sponsors and exhibitors
Want to know more about our project and the success stories of our #startups or maybe you're interested in our #robotics marketplace?

Tomorrow come and join our Project Coordinator Izabela Zrazinska at #ERF2020 Speaker's corner!

????When: Thursday, March 5, at 10:05 -10:20 pic.twitter.com/g2gd9xjnFd

— RobotUnion EU (@RobotUnion_EU) March 4, 2020
EU-project proposals check by the Idealist network
My project fits with an #H2020 #robotics open call topic! What next? Get advice from experienced @ICT_IDEALIST NCPs. Join FREE Proposal Idea Check now at #ERF2020 in Sala 9 @DigIndEU @RoboticsEU @eu_Robotics @SPARCrobotics @AI4EU @EFFRA_Live @I4MS_Europe https://t.co/zAXOUYDYgd pic.twitter.com/X59Slsboxr

— H2020-ICT: Ideal-ist (@ICT_IDEALIST) March 5, 2020
A dedicated event app with gamification
For most social and apps addicted award at #ERF2020 ..the winner is... Andrea Orlandini @StampaCnr @cnr_istc @eu_Robotics @Sharework_EU pic.twitter.com/MgvACKV9RF

— PST@ISTC-CNR (@CNRPst) March 4, 2020
The evening of the euRobotics Awards 2020 Ceremony, at the Malaga Automobile and Fashion Museum, praised the winners of the European Robotics League Smart Cities competition, the Technology Transfer, Entrepreneurship and Georges Giralt PhD Awards:
We are really pleased to have shared our winners from the #SciRocChallenge2019 at last night's #ERF2020 Awards! Congratulations! Exciting details for the second edition of #SciRoc in 2021 to be announced soon #staytuned @ERLrobotleague pic.twitter.com/0VWSLHZEo2

— SciRoc (@SciRoc_EU) March 5, 2020
We are so honored to announce that together with @UVDRobots & Odense University Hospital we won the prestigious Technology Transfer Award 2020 last night at European Robotics Forum in Malaga for our UV Disinfection Robot. #proud #robotics #award #savinglives???????? pic.twitter.com/82zlbW6OxP

— Blue Ocean Robotics (@BlueOceanRobot) March 5, 2020
???? @AbleHumanMotion, #spinoff de @la_UPC, guanya el prestigiós premi #ERF2020 #Entrepreneurship #Award celebrat a Màlaga com la millor #startup robòtica de 2020.

Congratulations! @alfonscarnicero @josepmariafont @eu_Robotics pic.twitter.com/zucXwa3dAZ

— Innovació UPC (@Innovacio_UPC) March 6, 2020
Congratulations to the PhD Award Winner at #ERF2020 Cosimo Della Santina from University of Pisa and to all finalists! pic.twitter.com/zyO2ZymPWr

— euRobotics (@eu_Robotics) March 4, 2020
Congratulations ???? to all winners & finalists of the euRobotics Awards: Georges Giralt PhD ????, TechTransfer ???? & Entrepreneurship ????, praised at #ERF2020, Malaga, ????????
Well done to the Clickgame ???? @CrowdCompass winner too!
???? more about them: https://t.co/cz2uV9haxY pic.twitter.com/6QTSliFdbq

— euRobotics (@eu_Robotics) March 17, 2020
The Awards evening ended with a legendary flamenco show:
How can the #ERF2020 awards in Málaga ???????? better end than with a flamenco ???? show?! pic.twitter.com/AFZm0ny4Iz

— euRobotics (@eu_Robotics) March 4, 2020
Attendees visited the stands of the +50 sponsors and exhibitors, having the chance to see various robots swarming the exhibition floor:
Fantastic range of humanoid robots on display at this week's #ERF2020 in Malaga! #Robotics #ArtificialIntelligence pic.twitter.com/4XXSHZqzF3

— ORCA Hub (@ORCA_Hub) March 5, 2020
"The healthcare sector is already accepting robotics for many different tasks". I particularly like this exoskeleton for muscular rehabilitation #ERF2020 #healthcare #robotics #ai pic.twitter.com/fNqcskmWzb

— Jennifer Ruthe (@Written_Jen) March 3, 2020
Some highlights from an excellent three days at #ERF2020 in #Malaga #Robotics pic.twitter.com/CHWOHb5kpF

— UKRobotics (@UKRobotics) March 5, 2020
The robots attracted a lot of media attention:
Aquí os dejamos el momento de la entrevista a @Arturobm90 @scignals1 Muchas gracias a @7TVAndalucia por dar cobertura de este congreso @eu_Robotics @FISJ_Madrid #ERF2020 #dañocerebral pic.twitter.com/PLNnAplgX9

— scignals (@scignals1) March 5, 2020
Malaga robotics demonstrates Artificial Intelligence on the Costa del Sol via @euroweeklynews https://t.co/KEPskoxvEc #RoboticsNews #ERF2020 #ArtificialIntelligence

— UKRobotics (@UKRobotics) March 11, 2020
The second edition of the euRobotics charity run took place in the Sports centre of the University of Malaga:
#ERF2020 #Malaga in a nutshell for me #workshops #exhibition @shadowrobot @eu_Robotics Charity Run for #STEMeducation and having fun ???? pic.twitter.com/Uzp3NfjMZ3

— Radhika Gudipati (@RadhikaGudipati) March 12, 2020
All memorable moments have been captured in the photo gallery by Visual Outcasts:
Enjoyed #ERF2020, Malaga ?????????
Check the ???? galleries (credits: Visual Outcasts)!
????https://t.co/N7wnFWhysb pic.twitter.com/jz1h914SHE

— euRobotics (@eu_Robotics) March 12, 2020
Thank you #ERF2020, see you at #ERF2021 in Rotterdam, the Netherlands!
Bye bye @malaga @turismodemalaga! Thank you so much for these incredible days #ERF2020 @Fycma @eu_Robotics #Robotics @liisabrett @principanna @carlosvivasa See you soon! ;-) pic.twitter.com/3CQZ5gcMxu

— Francesco Ferro (@FerroFrancescoE) March 6, 2020
Bye bye #erf2020 - looking forward to Rotterdam #erf2021
Málaga you were a great host - this city really never sleeps! ????#robmosys #Esmera #robotics #SoftwareEngineering pic.twitter.com/oij2CoZM8N

— RobMoSys (@RobMoSys) March 5, 2020