European Robotics Forum 2012 officially opened by minister
The Danish Minister of Science, Innovation and Higher Education, Morten Østergaard, attended the official opening of the European Robotics Forum 2012. The minister gave a speech and was later guided around the State of the Art Exhibition.
Among other topics, the minister's opening speech focused on innovative work as a key to improving the welfare sector. Later, the minister was guided around the adjacent State of the Art Exhibition by Head of Danish Technological Institute's Center for Robot Technology, Claus Risager. The minister showed great interest in the exhibited technologies and took his time meeting the people behind the exhibition. 
During his stay, Morten Østergaard got the chance to use some of the robots. Among other things, the minister tried the personal helper of the future, JACO, which is a robot arm designed to help handicapped people in their daily activities. Morten Østergaard also showed great interest in a light and flexible robot arm, invented by Festo. The robot arm is inspired by elefant's trunk.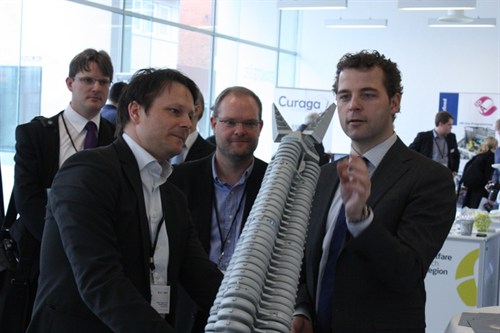 All in all, the European Robotics Forum 2012 has been off to a great start with a big turnout and a positive atmosphere among the participants.