Simple, creative robotics: Fotokite and 'Walk to Beat' receive top awards for innovative designs at European Robotics Forum

The 2017 European Robotics Forum in Edinburgh brought together over 800 people from robotics academia and industry. In an effort to bridge the two, euRobotics hosted an Entrepreneurship and TechTransfer award. Startups from around Europe competed for top prizes in front of a panel of experts.                                       
The euRobotics Technology Transfer Award, now in its fourteenth year, showcases the impact of robotics research and puts the spotlight on successful technology transfer between science and industry. Innovations in robot tech and automation — through the result of research and industry working together —  are eligible for the prize.
The euRobotics Technology Transfer Awards were handed by MEP Victor Negrescu (Romania), winner of last year's MEP Award on Digital Agenda. As a former digital entrepreneur himself, Victor Negrescu is a promoter of a stronger voice for European entrepreneurs and researchers.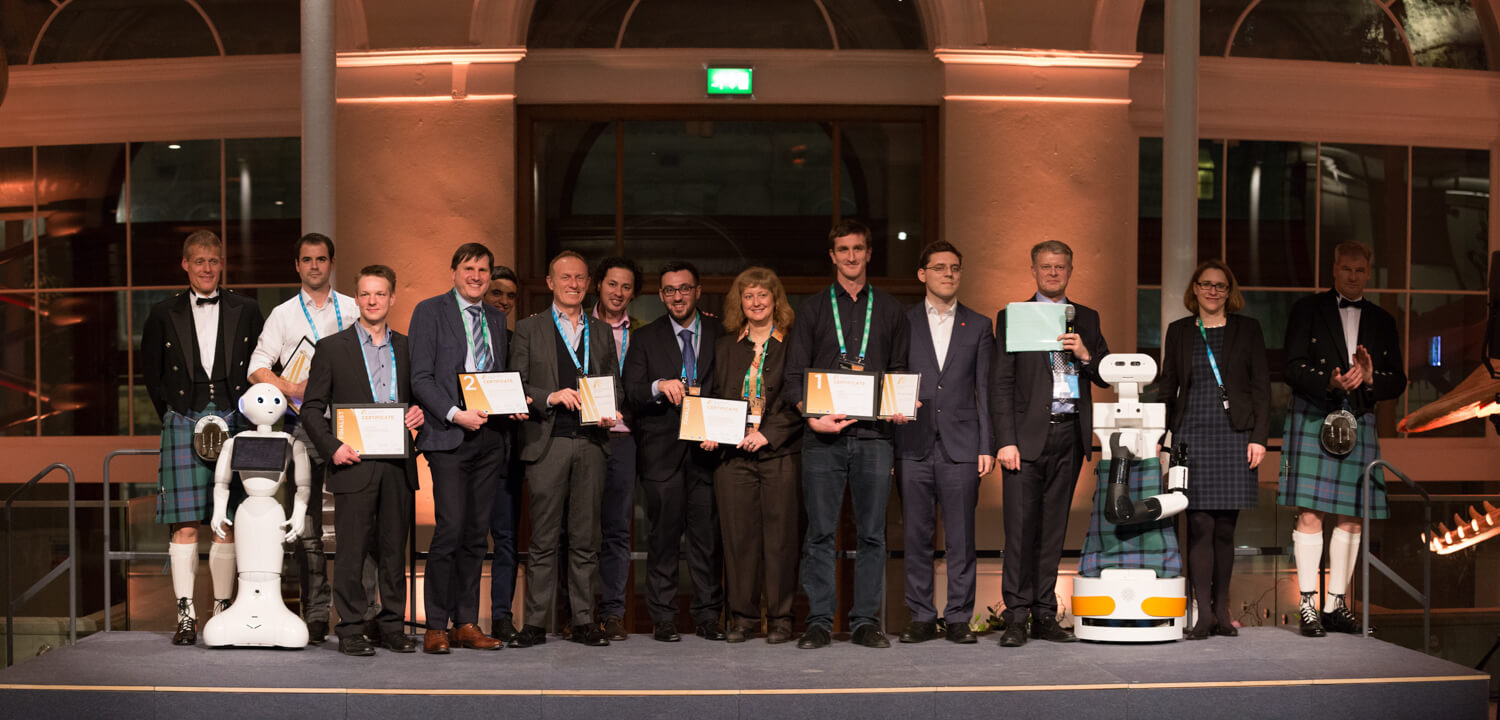 Technology Transfer Award winners and coordinators together with MEP Victor Negrescu. Credits: Visual Outcasts
Fotokite, a tethered drone, won first place. The company is designed to make aerial photography accessible for everyone. Similar to a kite, the drone is tethered and foldable making it easy for anyone who wants to take photos from a bird's-eye view. The company raised over 400K USD in crowdfunding in 2015 and have since started shipping their product.
Christopher McCall, who pitched for Fotokite, said: "We make a new type of tethered drone which is 100% autonomous, flies for several hours, and can be used by broadcast journalists, or for inspection." Adding that, "It's incredible to win the Tech Transfer Award at ERF."

Watch the Fotokite in action below:
The Entrepreneurship Award helps small innovative companies pitch their ideas for the next big thing in robotics to a panel of technology investment experts. It's all about learning skills, gaining  visibility, and bringing in the cash prize.
The third prize was awarded ReHand Technologies, maker of prosthetic, orthotic and rehabilitation devices. The second prize went to Haxtron for their robot Pr0be, a spherical autonomous aerial robotic platform. The winner this year was Neha Chaudhry from the company Walk to Beat. Inspired by her late granddad who suffered from Parkinson's for 8 years, her product is a robotic walking stick with an innovative technology that gives out pulses in the handle  - it's discreet and looks good, so people feel empowered instead of disabled.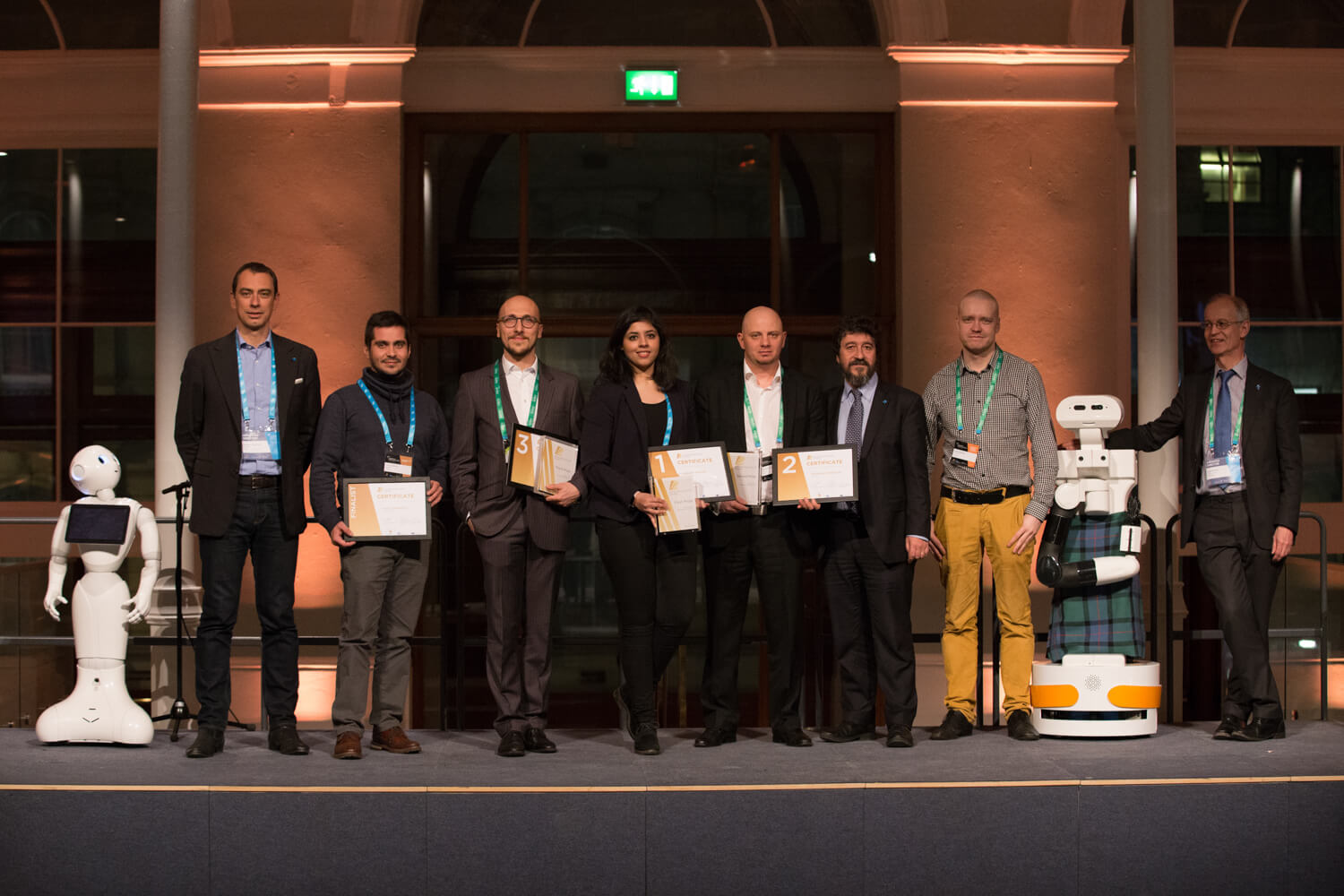 Entrepreneurship Award winners, coordinators and juries. Credits: Visual Outcasts
Commenting on winning first prize, Neha Chaudhry said, "This was totally unexpected! I'm producing and designing for assisted living using smart technology products. Our product is simple: to help improve people's lives. And with this [Walk to Beat] it's for people who are struggling with Parkinson's. Winning this award is great exposure for our company and we're delighted."
The euRobotics TechTransfer and Entrepreneurship Awards 2017 are funded by the EU's Horizon 2020 Programme.
European Robotics League finalists
The European Robotics League (ERL) consists for two indoor robotics competitions, ERL Industrial and ERL Service, and one outdoor robotics competition, ERL Emergency. Points are awarded by attending local and major tournaments, not a central event, with three main objectives: strengthening the European robotics industry, push innovative autonomous systems for emergency response, and addressing societal challenges of aging populations in Europe. The European Robotics League is funded by the EU's Horizon 2020 Programme. 
Video: European Robotics League presentation
Current finalists for ERL Industrial Robots are autonOHM for the best-in-class task: "Fill a box with parts for manual assembly, and b-it-bots for the best-in-class functionality "navigation functionality." Finalists for ERL Service Robots include homer@UniKoblenz and SPQReL.
Read the ERL Awards press release: Top service and industrial robots to win the European Robotics League Awards (Season 2016/17)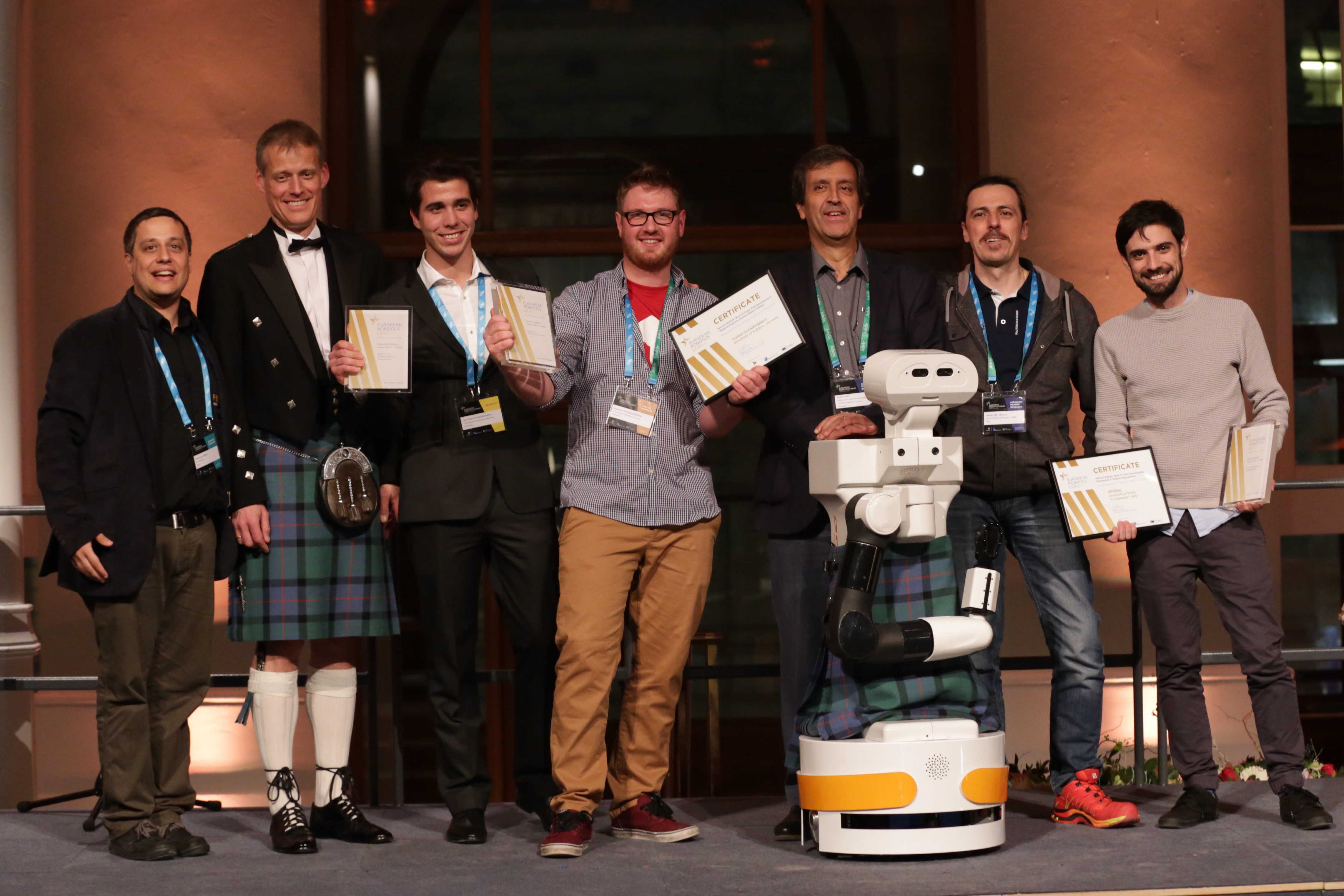 ERL Service and Industrial Robots Awards. Credits: Visual Outcasts
"Challenges such as these are the pivot from research to industrial applications. Trialing in real-world environments is key to this kind of innovation." said Reinhard Lafrenz, Secretary General euRobotics.
"Through competitions we can attract top talent in robotics to exchange knowledge, while solving real-world challenges. We gave two ERL awards, in the service and industrial leagues at ERF. We're also looking forward to the upcoming 2017 ERL Emergency Competition in Piombino, Italy," said Prof. David Lane, ERF2017 General Chair and Director of the Edinburgh Centre for Robotics.
Video: Trailer of the European Robotics League Major Tournament in Piombino
Organisers:
The European Robotics Forum is organised by euRobotics under SPARC, the Public-Private partnership for Robotics in Europe. This year's conference is hosted by the Edinburgh Centre for Robotics.
About euRobotics and SPARC
euRobotics is a non-profit organisation based in Brussels with the objective to make robotics beneficial for Europe's economy and society.  With more than 250 member organisations, euRobotics also provides the European Robotics Community with a legal entity to engage in a public/private partnership with the European Commission, named SPARC.
SPARC, the public-private partnership (PPP) between the European Commission and euRobotics, is a European initiative to maintain and extend Europe's leadership in civilian robotics. Its aim is to strategically position European robotics in the world thereby securing major benefits for the European economy and the society at large.
SPARC is the largest research and innovation programme in civilian robotics in the world, with 700 million euro in funding from the European Commission between 2014 to 2020, which is tripled by European industry to yield a total investment of 2.1 billion euro. SPARC will stimulate an ever more vibrant and effective robotics community that collaborates in the successful development of technical transfer and commercial exploitation.