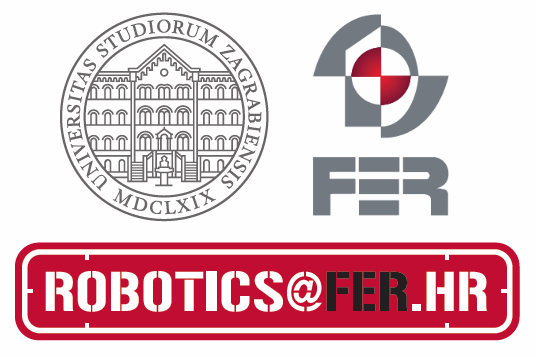 University of Zagreb, Faculty of Electrical Engineering and Computing
Unska 3
10000 Zagreb
Croatia/Hrvatska
http://www.fer.unizg.hr
Keywords
Agricultural and Food Robotics

Field/Service Robots in unstructured Environments

Harsh Environment Robotics

Healthcare

Industrial Robotics

Laboratory Robots

Logistics and Transport

Maintenance and Inspection

Socially Intelligent Robotics and Societal Applications

Aerial Robots

AI and Cognition in Robotics

Autonomous Navigation

Benchmarking and Competitions

Bio‐Inspired Robots

Education and Training

Marine Robotics

Mechatronics

Natural Interaction with Social Robots

Perception

Physical Human Robot Interaction

Safety

Telerobotics and Teleoperation
Profile
The University of Zagreb – UNIZG is the oldest and biggest university in South-Eastern Europe. As a comprehensive public Central European
University, the University of Zagreb focuses on education and research in all scientific fields (arts, biomedicine, biotechnology, engineering, humanities, natural sciences, and social sciences) and offers a broad spectrum of courses on all study levels, from undergraduate to postgraduate. With 29 Faculties, 3 Art Academies and the University Centre for Croatian Studies it is the flagship educational institution in the country, a place where more than 7,900 teachers and 72,480 students develop knowledge and acquire skills. The Faculty of Electrical Engineering and Computing – FER is the largest technical faculty and leading educational and R&D institution in the fields of electrical engineering, information and communication technology and computing in the Univeristy of Zagreb. The Faculty has developed valuable international cooperation with many research institutions around the world, either directly or through inter-university cooperation. Currently FER is participating in 160 projects, both EU and national, financed by various grant schemes (H2020, BILATERAL, COST, ERASMUS+,
INTERREG, NATO SfP, ERDF, European Social Fund...).
Robotics research at UNIZG-FER is conducted within three laboratories: Laboratory for Robotics and Intelligent Control Systems – LARICS (larics.fer.hr), Laboratory for Autonomous Systems and Mobile Robotics – LAMOR (lamor.fer.hr) and Laboratory for Underwater Systems and Technologies – LABUST (labust.fer.hr). These laboratories are founders of the Centre of Research Excellence for Advanced Cooperative Systems – ACROSS (across.fer.hr). These groups are currently active in more than 20 scientific international and national projects with the topic of robotics in different areas. They also collaborate closely with companies from all around the world.