4th Edition of European Robotics Week: A future of robots for everyone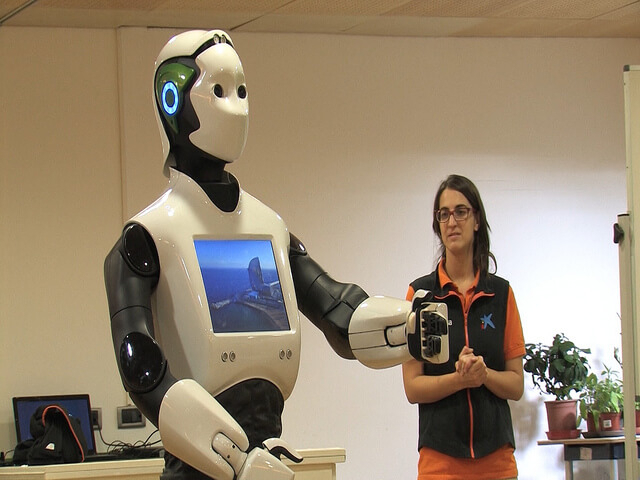 European Robotics Week 2014 – 24th of November to 30th November 2014
Robots are the future. Robots occupy the imaginations of youngsters, teenagers, students – essentially everybody. Robots are cool and we all have our favourites from Sci-Fi movies, but how much more enjoyable would it be to interact with the ones that we would have built and designed ourselves? Imagine robots crawling like insects, walking like humans, interacting with the environment in different ways, or even playing sports such as football. European Robotics Week is about translating this excitement into valuable education by motivating all ages to gain an insight into natural science and mathematics, but also in developing a responsible opinion for the use of robotics in our society.


Robotics spur interest in STEM subjects in school
Robotics and the science behind it, is not just for nerds. Tens of thousands of school children in Europe, who may have no interest in technical subjects, change their mind as a result of these essential interactions. Robots can complement the teaching process and motivate young people of any age to learn not only the basics of science, technology, engineering, and mathematics (STEM), but also to direct them onto an independent, exploratory, self-motivated learning path.


European Robotics Week: Events all over Europe, squeezed into a single week
During the European Robotics Week this year, Industry, research institutes and universities, will again have the possibility to raise public awareness of the robotics field, by offering a whole host of robotics related activities. Open labs, exhibitions, challenges, robots in action on public squares, school visits by robotics lectures, guided tours for pupils and much more will inspire students of all ages. Just as in previous editions, there will be the opportunity to transmit all robotics activities live online for the whole world to see.
Robotics – A key element for overcoming societal challenges in Europe
Stimulating this key sector, especially through youth and adult education by encouraging participation in the many tours and events, has a second equally important effect: to raise awareness on the type of impact that robots will have in our society. Robotics provides solutions to many of the current and future societal challenges, such as: working in certain sectors which pose a hazard to human health, or taking care of disabled and elderly people.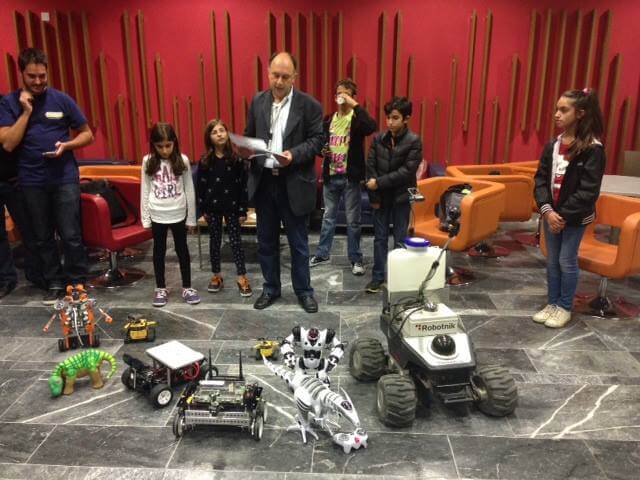 Background and History
European Robotics Week was born out of an initiative of the European Robotics community to bring robotics research and development closer to the citizen. Its main aim is to inspire students of all educational levels to pursue careers in Science, Technology, Engineering and Mathematics and allow us to glimpse the future society and the very real impact that robotics will have in it.


The fourth edition will take place between the 24th and 30th November 2014, and is expectedto encompass more than 300 activities in 25 European Countries. Since 2011, European Robotics week has so far attracted over 100,000 people and encouraged the public to become involved in hundreds of different robotics related activities on a yearly basis. The latest edition looks to emulate this great success and aims to continue raising awareness, whilst also breaking new records for attendance, introducing ever more people to the growing prominence of robotics in Europe.


European Robotics week 2014: Robots are coming to Toulouse!
For the first time, we will move the Communication Centre of European Robotics Week from Brussels to a location full of impressive activities: the Cité de l'Espace in Toulouse. Within this science park dedicated to the space age, the competitions of the European RoCKIn project will take place. Teams from all Europe will enter and compete with their robots in two contests: robots"working at home" and "working in factories". The park itself will have numerous activities taking place during the week, not to mention the whole of the Toulouse region and the rest of Europe, all of which will be reported on by the Robotics Communication Centre – bringing the future and current generations of the robotics community together. We plan on moving our Communication Centre to a different location each year.


Credit and Contacts
The European Robotics Week is only possible thanks to the dedication and voluntary work of all the national coordinators and people involved in robotics organisations across Europe: teachers, educators, museums, robotics industries, robotics research laboratories. If you want to organise an event during European Robotics Week 2014, please look at: www.robotics-week.eu.
All events scheduled for this week are registered in a database whose growth can be observed at http://old.eu-robotics.net/eurobotics-week/events-2014/index.html
If you need inspirations, look at the events from 2013!

Materials
ERW 2014 - Teachers Handbook

ERW 2014 -  Press Release


In case of any questions and further information please contact:
Philip Piatkiewicz
euRobotics AISBL
Boulevard A. Reyers 
80- 1030 Brussels
Email: philip.piatkiewicz@eu-robotics.net
Tel: +32 2 706 8198