Brussels is the heartbeat of European Robotics between 20 and 23 November #ERW2017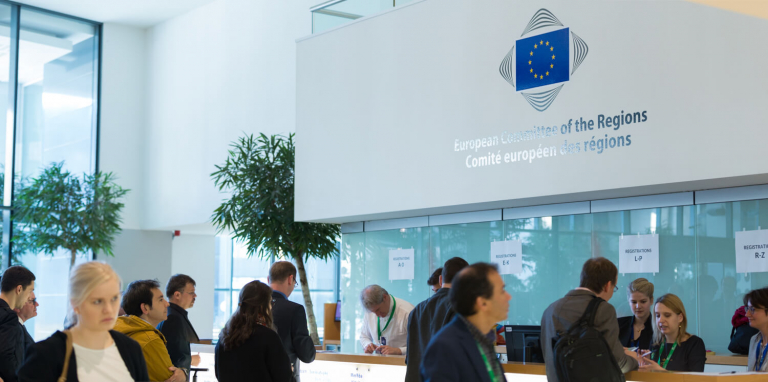 30 robotics projects to exhibit at the European Committee of the Regions during European Robotics Week 2017


Brussels, 9 November 2017 - Europe's robotics community is showcasing its success and its potential during an event hosted by the European Committee of the Regions (CoR), as part of this year's European Robotics Week (ERW2017).
Robotics experts from 30 European and regionally funded projects will outline how their work can impact our society in healthcare, education, the environment and international cooperation during the "Robots Discovery" exhibition.
At the exhibition hosted by the CoR, regional representatives will be able and explore research projects and practical applications of robots for industry, to help the elderly at home, or to analyse patient scans in hospitals, develop digital skills and teach STEM, to decontaminate construction sites, or to search for people after emergencies, etc.
Regional representatives will get insights from regions across Europe that have successfully developed competences in digitisation, including robotics, and an overview of opportunities for creating digital innovation hubs to embed technology and jobs in Europe's regions.
Markku Markkula, First Vice-President of the European Committee of the Regions, said: "During the Robotics week cities and regions will present their latest robotics applications and successful regional initiatives and explore funding possibilities and ways to cooperate. Developing strategies to build smart specialisation in robotics and optimising the use of structural funds to complement the identified R&I topics is important for exploiting the particular potential that robotics has for Europe's regions. Robotics can provide solutions to major societal challenges and raise productivity in every region's specific industrial and civil competencies." 
"As partner in SPARC, the public-private partnership for Robotics in Europe, the European Commission is proud to be associated to the ERW, which offers all citizens across Europe the opportunity to discover what robotics can offer, including results from many of our EU funded projects. We are glad to welcome a number of these projects at the central event in Brussels and to discuss the possibilities to join forces with European Regions to exploit all benefits this technology can offer, and doing so, contributing to our strategy on Digitising European Industry" explained Khalil Rouhana, Deputy Director-General, DG Communications Networks, Content and Technology (CNECT), European Commission.
Other events organised in Belgium include the Eurospace Center which will run robotics classes for children (24 November), and the demonstration in Brussels of the self-driving bus of the Finnish Metropolia University of Applied Sciences (22-23 November). ERW2017 will overlap with the last week of the month-long InQbet hackathon on innovation in robotics and artificial intelligence.
The ERW2017, taking place between 17-26 November 2017 is expected to include more than 1000 local events for the public throughout Europe, run by local organisation to explain robotics and particularly to enthuse young people. Open days by factories and research laboratories, school visits by robots, talks by experts and robot competitions are just some of the events.
The six previous ERWs have attracted 400 000 citizens across Europe, according to euRobotics.
find local ERW activities at www.robotics-week.eu
Ends
Press contact
euRobotics
Tel: +32 2 706 83 69
Email: media@robotics-week.eu
Find the European Robotics Week on the web!
Website: old.eu-robotics.net/robotics_week
European events: old.eu-robotics.net/robotics_week/events/index.html
Handbook for event organisers: upload/ERW-HANDBOOK-2017-web-high-res.pdf
Twitter: twitter.com/eu_Robotics  twitter.com/SPARCrobotics
Facebook: www.facebook.com/euRobotics  www.facebook.com/SPARCrobotics/
LinkedIn: www.linkedin.com/company/eurobotics-aisbl
Youtube: https://www.youtube.com/user/euRobotics
2016 Pictures Gallery: old.eu-robotics.net/sparc/sparc/newsroom/galleries/european-robotics-week-2016.html
Contact: media@roboticsweek.eu
Notes for editors
European Robotics Week
ERW was conceived with the desire of the European Robotics community to bring robotics research and development closer to the public and to build the future Robotics Society. Many more than 400,000 people across Europe have been part of ERW since its first edition in 2011. The European Robotics Week is organised under SPARC, the public-private partnership for robotics between euRobotics and the European Commission.
European Robotics Week 2017 (ERW2017) takes place around Europe on 17–26 November 2017.
ERW activities are listed at www.robotics-week.eu
There is still time to organise a local ERW event. See the handbook and registration guide for organisers: upload/ERW-HANDBOOK-2017-web-high-res.pdf
About euRobotics and SPARC
SPARC is an initiative to maintain and extend Europe's leadership in civilian robotics. Its aim is to strategically position European robotics in the world, thereby securing major benefits for Europe's economy and society at large.
SPARC leads the driving strategy behind the largest civilian robotics research and innovation programme in the world, with €700 million in funding from the European Commission from 2014 to 2020 and triple that from European industry, to yield a total investment of €2.8 billion. SPARC will stimulate a more vibrant and effective robotics community that collaborates in development and commercial exploitation in all regions.
euRobotics is a non-profit organisation based in Brussels with more than 250 members, representing the Robotics community in Europe.