#ERW2017 at University of Verona, Italy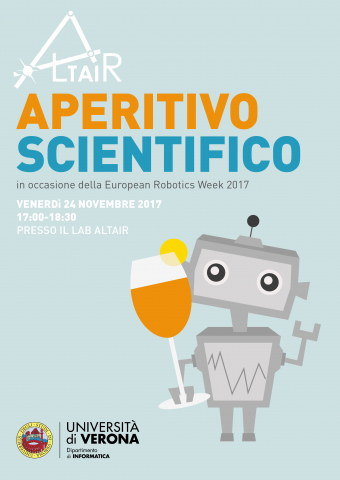 On Friday 24th November in occasion of the European Robotics Week 2017 Altair Robotics Lab organised a scientific aperitivo: robotics explained by researchers with Prosecco wine!
The usual Friday afterwork Laboratory aperitivo was open to the public and gave the opportunity for experts and not experts to have an overview of the ongoing and future projects. Participants had also the chance to see some robots in action, including the last one arrived: Panda-Franka.
A unique opportunity for not academic visitors to see what our job is about and a good way to celebrate our passion for the robotic research in a pleasant and casual atmosphere. Thanks #ERW2017
About
The ALTAIR Robotics Laboratory was funded in 2001 by Prof. Paolo Fiorini, who currently runs it.
The Lab leads its research and development on non-conventional robotic systems that can interact with the surrounding environment in multiple ways, from teleoperation to autonomous behaviours. Our interest is focused on robotic surgery, human-robot interaction, elderly and disabled care, service robotics, search and rescue robotics.
The Lab has been awarded several EU and Italian grants, including projects on robotic surgery, such as Accurobas, Safros, Isur, Eurosurge, MURAB, ARS and SARAS; For more information please visit:
Official page: http://metropolis.scienze.univr.it/altair/
Facebook page: https://www.facebook.com/altairlab/