#ERW2017 in Duborvnik, Croatia (press release by Futura)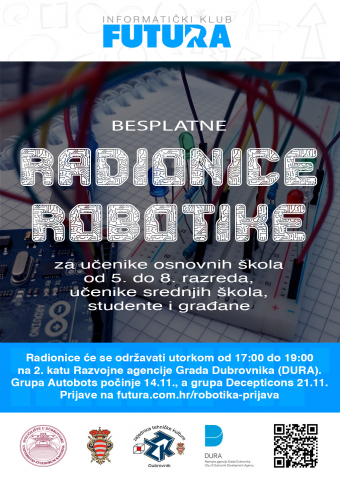 Informatics club Futura participated in European Robotics Week for the fourth consecutive year. This year Informatics club Futura participated with two events: Robo.DU Day 2017 and Futura robotics workshops 2017-2018.
#ERW2017 Robo.DU Day 2017 was organized by the Association of Technical Culture City of Dubrovnik and Informatics club Futura with the support of the University of Dubrovnik. Robo.DU Day is an event with public talks about robotics, Arduino technology, Raspberry Pi and 3D Printers. Except the lectures visitors participated in various workshops: LEGO's "Renewable Energy Sources", LEGO gaming, Arduino and Raspberry Pi. There was also a demonstration of humanoid robots, hexapods and drones. Robo.DU Day is planned as a day of exchange of knowledge and skills among students and young people of the City and the County. The idea of a well-conceived STEM education (Science, Technology, Engineering, Mathematics) is associated with this event. In public talks Vicko Prkačin first talked about his adventure of making a special modular robot. Nikša Vlahušid presented how Arduino technology can been used as a fun and as serious tool for complex tasks. Secretary of the Croatian Robotic Alliance – Željko Krnjajid, takled about the successes of Croatian robotic teams and about his greatest project – to create and manage a humanoid robot! STEMI presented itself through an incredible story of their success!
On Futura robotics workshops primary school students are building and programming Fischertechnik robots, secondary school students and older are working with Arduino. Workshops are held every Tuesday through the whole school year, started from November.