#ERW2019 Workshop Summary: Robots at school - Inclusion, Imagination, Sustainability and Skills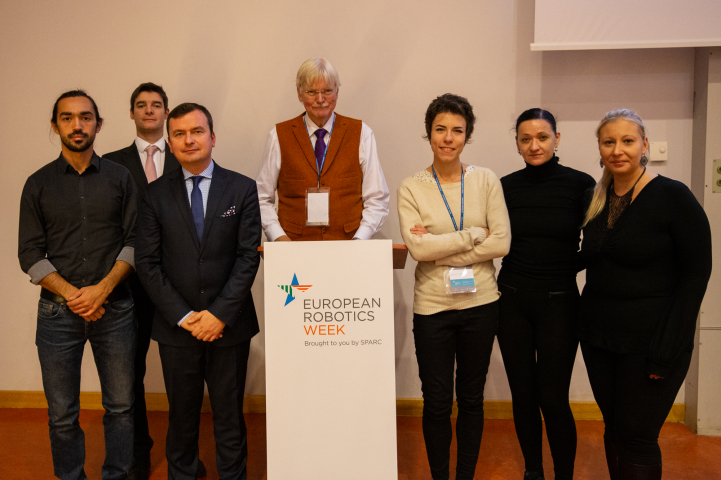 "No child left behind, no region left behind in the development of robotics". This was the clarion call from a wide-ranging panel discussion on the theme of robotics education. The words were delivered by Uwe Haass, who opened and chaired the panel during European Robotics Week (ERW) 2019's central event at Poznań University of Technology. Uwe, former Secretary General of euRobotics and the originator of ERW said that a key challenge was to organise projects across Europe "to involve young people, unemployed, migrants and regions that have been forgotten." For Uwe, this theme and discussion "should provide an impetus and motivation for the European Commission, for NGOs and for other European organisations, to go ahead and start a campaign for projects like that."
Andrei Dumitriu, Professor of Robotics at Bucharest University, also touched on this. Speaking from the perspective of "a public/private ambassador travelling between different worlds", he described an automated green wall project which involved collaboration between students from a variety of backgrounds including some of the Roma community. Challenging the existing stereotypes, Andrei revealed that there was a transfer of skills and knowledge in both directions: "They learn from each other, approaching tasks and challenges from different perspectives." Not only did this enable people from disadvantaged backgrounds to learn about robotics but all students involved could learn from this mutual encounter between people with different life experiences.
Staying with Romania, participants in the Robohub project led by Ana-Maria Stancu, robotics NGO manager and euRobotics board member, sometimes found that robotics education had to start at the most basic level when they discovered that some children don't even know how to use a mouse. In return for teaching fundamental skills, the project also offered a reciprocal benefit by providing voluntary programmers with a chance to give back to the community.
Beatrice Masala from Italy's Scuola di Robotica described an underwater rover project, adapted from an original MIT project: "A camera was attached to an underwater rover. We could see a lot of plastic pollution under water. It was very powerful for children to see this for themselves. Get to know your local seabeds – it's not something people tend to know. In its adapted form, the project served to raise young people's awareness of a pollution problem that had previously been invisible to them, as well as teaching them valuable technical and collaborative skills.
Among the most engaging features during the panel discussion, again with an environmental aspect, was the presentation of the Blue-Eyed Dragon Robot project by Serbian artist Biljana (Biba) Vicković and her project partner, art historian Irina Tomić. The project combined art, imagination and technology to provide a district of Belgrade with an innovative and socially-useful robotic artwork in a public space with a tin recycling function, with environmental, social and cultural impacts. This is a solar-powered tin-can recycling robot whose design was inspired by dragon mythology and which has proved to be highly engaging for the public in its local setting in Belgrade. Beyond the specifics of the dragon robot artwork, Biba and Irina raised questions about moving robotics education from a purely technical position to one in which aesthetics have greater prominence, a point succinctly made by Irina: "I think artists should be more involved with the design of robots."
Krzysztof Kurowski from Poznan Supercomputing and Networking Center (PSNC), also responsible for Poland's national research and educational network, outlined several Polish initiatives including the future school laboratory (living lab), and the plan to connect 25,000 schools across Poland via a high-speed network: "We want to put robots online in the cloud so that people can not just play and learn with basic robots but so that they can remotely operate and steer pretty sophisticated robots and advanced robotic arms."  Krzysztof also mentioned scenarios that enabled school students to interface with robots via speech recognition, voice control and virtual reality.
Andrei Bunis from the European Commission outlined some of the challenges arising from technological change, notably a growing inequality in the labour market arising from structural changes in employment, leading to a widening gap between those people with a higher level of skills who can command higher wages, and those with lower-level skills. One third of Europe's labour force lack technology skills. And yet, even when compared to the recent past, we now have access to an unprecedented array of technology. As Andrei Bunis observed, "It's not that being surrounded and bathed in technology has made us smarter or more skilled but that technology has got easier, not least through the growing use of apps. So it's not only important for us to be surrounded by technology but also to be able to understand it and design it."
While any response via school curricula would be the prerogative of member states, the European institutions can play their part by encouraging and supporting the robotics industry and schools to come together. For the world of work, Andrei outlined a sustainable vision regarding employment and skills in the workplace. While there's some benefit for everyone to have the same basic digital skills, it's most rewarding both to employers and employees when people know a specific sector, then add a layer of high-tech digital skills, so people can be re-skilled and up-skilled, and also gain transferable skills including so-called soft skills such as team-work and communication.
Another dynamic factor was the accelerating pace of the skills cycle: "One thing that's very noticeable with new technologies is that the cycle of skills being renewed is getting shorter and shorter, so the most successful people in the field are continuously learning."
He added that, on average and depending on the sector, the cost of reskilling or upskilling existing employees was 5-10 times cheaper than the cost of 'hiring and firing' employees. For those in the audience who had enjoyed a highly engaging 90-minute panel discussion, the conclusion was clear: re-skilling and up-skilling offer enduring benefits – for individuals, enterprises, for Europe and for society at large.
Report prepared by Steve Doswell