Powerful tech, talented people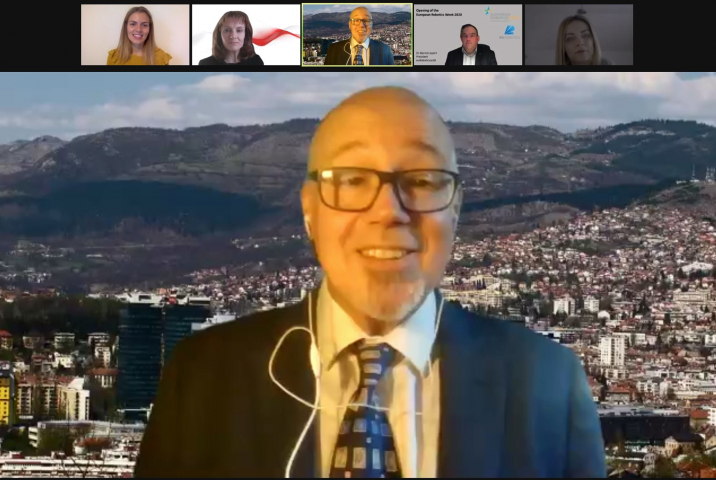 The value of robotics in a pandemic and the potential of BiH were key themes at the ERW Central Event Opening Ceremony, writes Steve Doswell
In a year when so much was cancelled, the European Robotics Week Central Event for 2020 did take place, This was due to the effort and determination of the organising team in Bosnia and Herzigovina (BiH), led by National Coordinator Maja Hadžiselimović, and despite the constraints of Covid-19.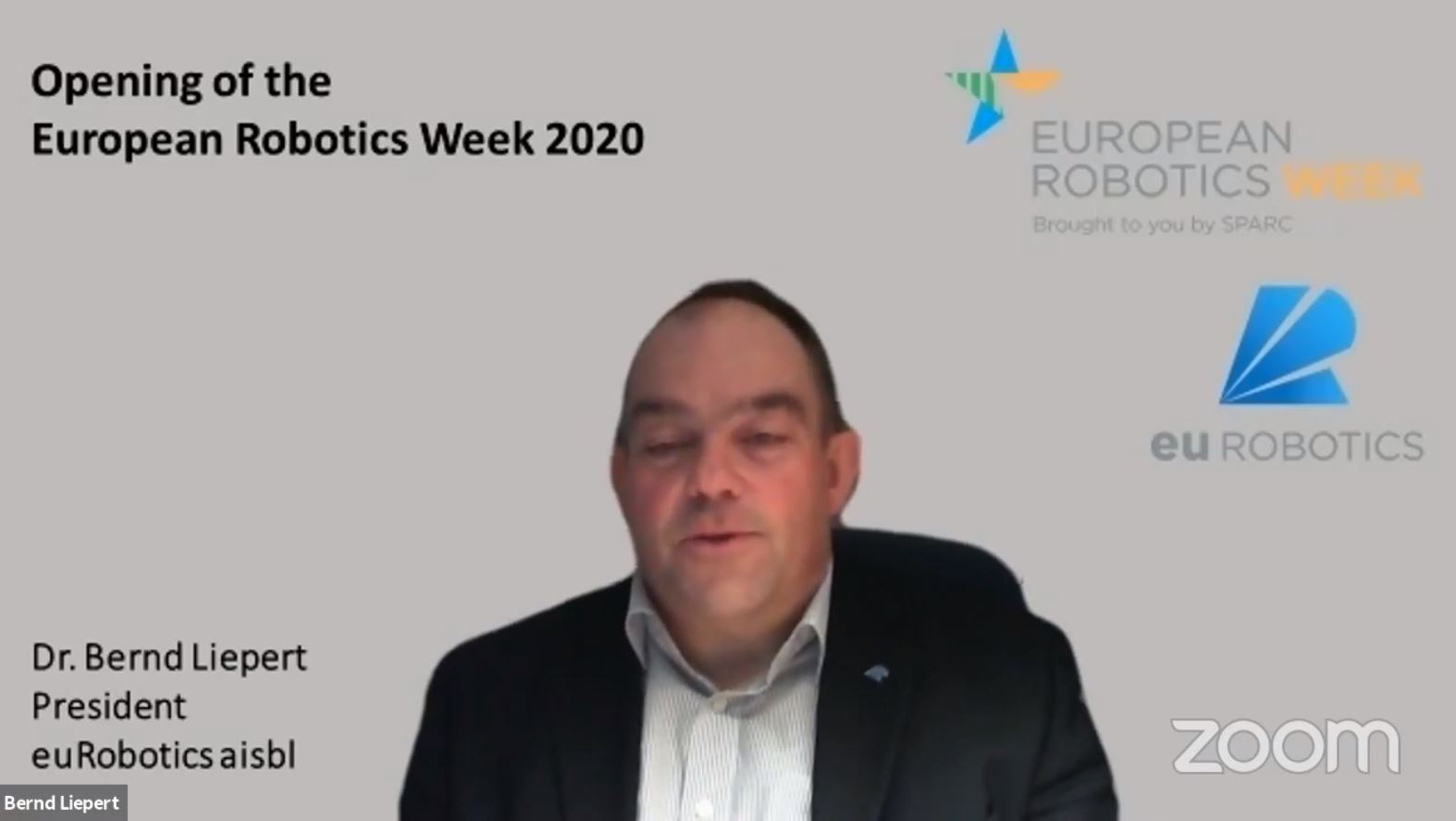 Welcoming everyone at the start of the Opening Ceremony, euRobotics president Bernd Liepert said that although it was a pity not to be able to meet in person, the challenge of a virtual event allowed for an even larger audience. Thanking Maja, Lejla Čamo, the EU Info Center and BalkanFilm for making the event possible and sponsors ABB and PAL Robotics and other partners for their support, Bernd complimented BiH for its lively robotics community, and then highlighted how robotics would change our lives, just as Covid-19 had, and sometimes in ways that would be accelerated by Covid.
"Robotics has been an omnipresent topic in the media and will change our daily life at work and at home and all generations." The convergence of robotics and other key technologies, notably AI, 5G and big data, advanced mechatronics, new materials and battery technology, would change the way we interact with each other in the physical world: "There are enormous societal changes and many dimensions to be considered."
Covid 19 had changed lives worldwide and there was a need to work together to cope with this and future challenging situations. It was time, he said, to rethink structures and processes, citing an example from healthcare, notably with automation in hospital logistics and also in care for the elderly, where there was huge potential to bring in technology to overcome major challenges faced within Europe and beyond.
Bernd then mentioned what would become a recurring theme throughout the Central Event: "To make the best use of available and emerging technology we need to work on robot-human interaction," with easy user interfaces instead of programming by robotics experts. There was also a need to raise awareness and acceptance of robotics by the wider public. This would require a common language and greater standardisation and also allowing smaller companies to be part of wider technology ecosystems. "We need clever brains and we cannot start early enough to educate children, that's one of the main reasons why euRobotics organises ERW. Thanks to the National Coordinators who do a great job, it's a pan-European event," with links to countries outside Europe.
Although there would be fewer activities than the 1300 events held last year because of Covid-19, it was a good sign that even in a pandemic ERW would offer a wide coverage of events across Europe where the public and especially young people would see and feel ongoing developments for themselves, all made possible by a resourceful network of national coordinators.
"These activities will also serve to present a realistic picture of technology," said Bernd, "in contrast to expectations from science fiction movies." He ended with a wish that through ERW, "we reach out to the public so that robotics is seen as an inspiring field to work in. Thanks a lot once again to Bosnia and Herzigovina."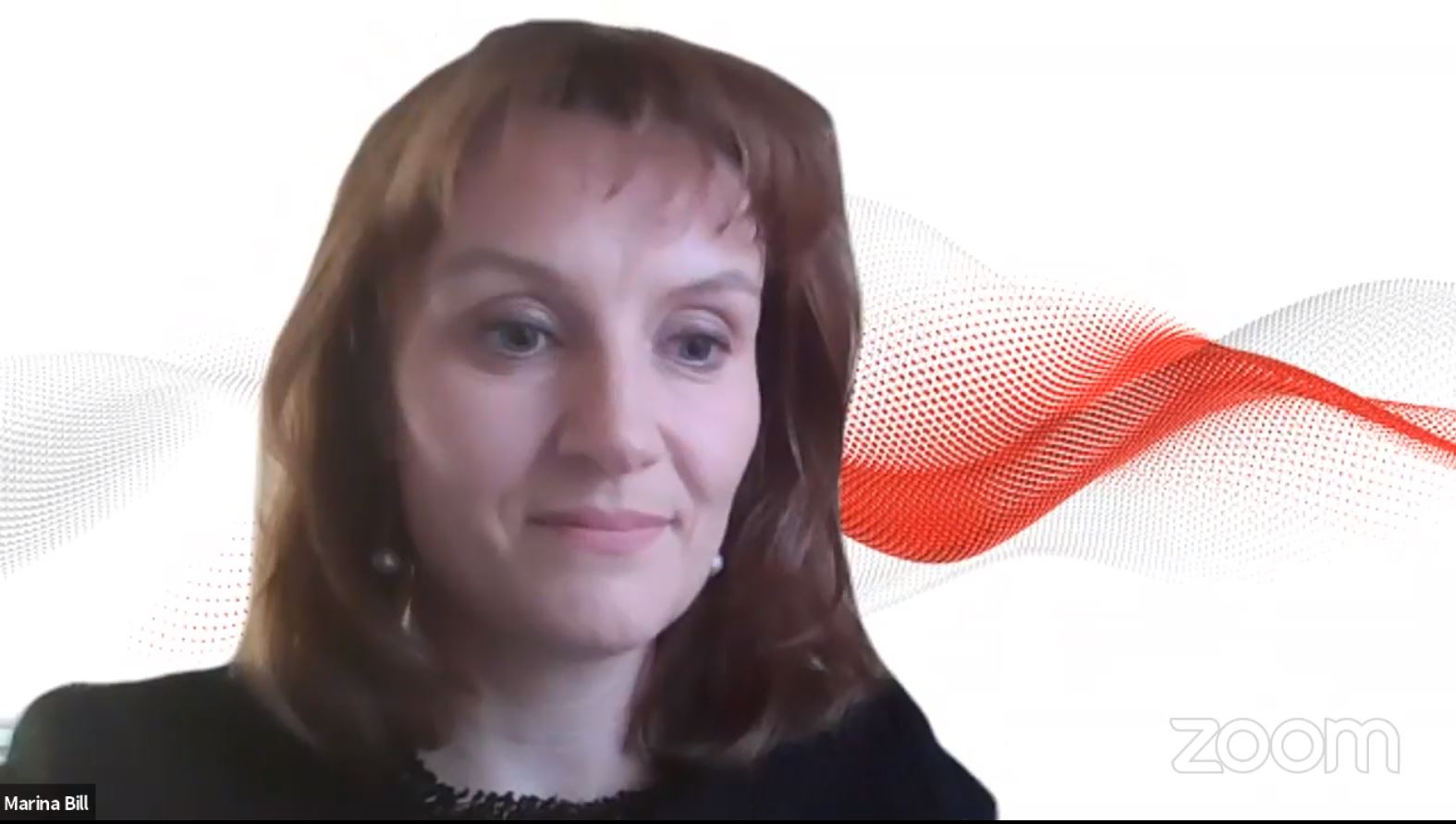 Next, the Opening Ceremony's virtual audience were invited to look through the lens of film-maker Steven Spielberg, by Marina Bill, ABB's Global Head of Sales for Robotics and Discrete Automation.
Marina recalled the film Minority Report, made in 2000, but set in the future. The film set out its sci-fi vision of what the world would be like in 2054, with predictive data, video calls, robots and drones, voice-activated smart homes and facial recognition. "We can tick all of those off the list now," said Marina. "Not even in Hollywood's wildest fantasy did they dream these things would already happen in 2020. There's a real explosion in technology at the moment." Citing research from IFR (https://ifr.org/worldrobotics2020) and other reports, Marina noted "a real decade of growth", with a six-fold rise in the number of installed industrial robots over 10 years (2009: 60,000 / 2019: 381,000). Two sectors alone – automotive and electronic – accounted for just over half of these. The five countries with the greatest density of robots per 10,000 workers - US, China, Germany, Japan and Korea – had 73% of the world's robots, while 12 of top 20 countries were in Europe.
Turning to the present global health crisis, Marina noted the greater awareness of the crucial role robotics can play during the pandemic. A growing audience has gained more understanding of this technology during 2020. Many more people now realise how good robots are in social distancing, maintaining mission-critical production and other responses to the Covid crisis.
In summary, "the mega-trends moving our industry have not changed but Covid has accelerated them. Companies of all types and sizes are adapting to this technology. As always, customers need productivity, quality, simplicity and flexible production." Research among managers (https://www.pega.com/future-of-work) suggests a majority (74%) believe intelligent automation is increasing customer satisfaction, while half say it will create more reliable work. The conclusion, said, Marina, was that: "Rapid technology adoption will continue to accelerate as its benefits become more evident."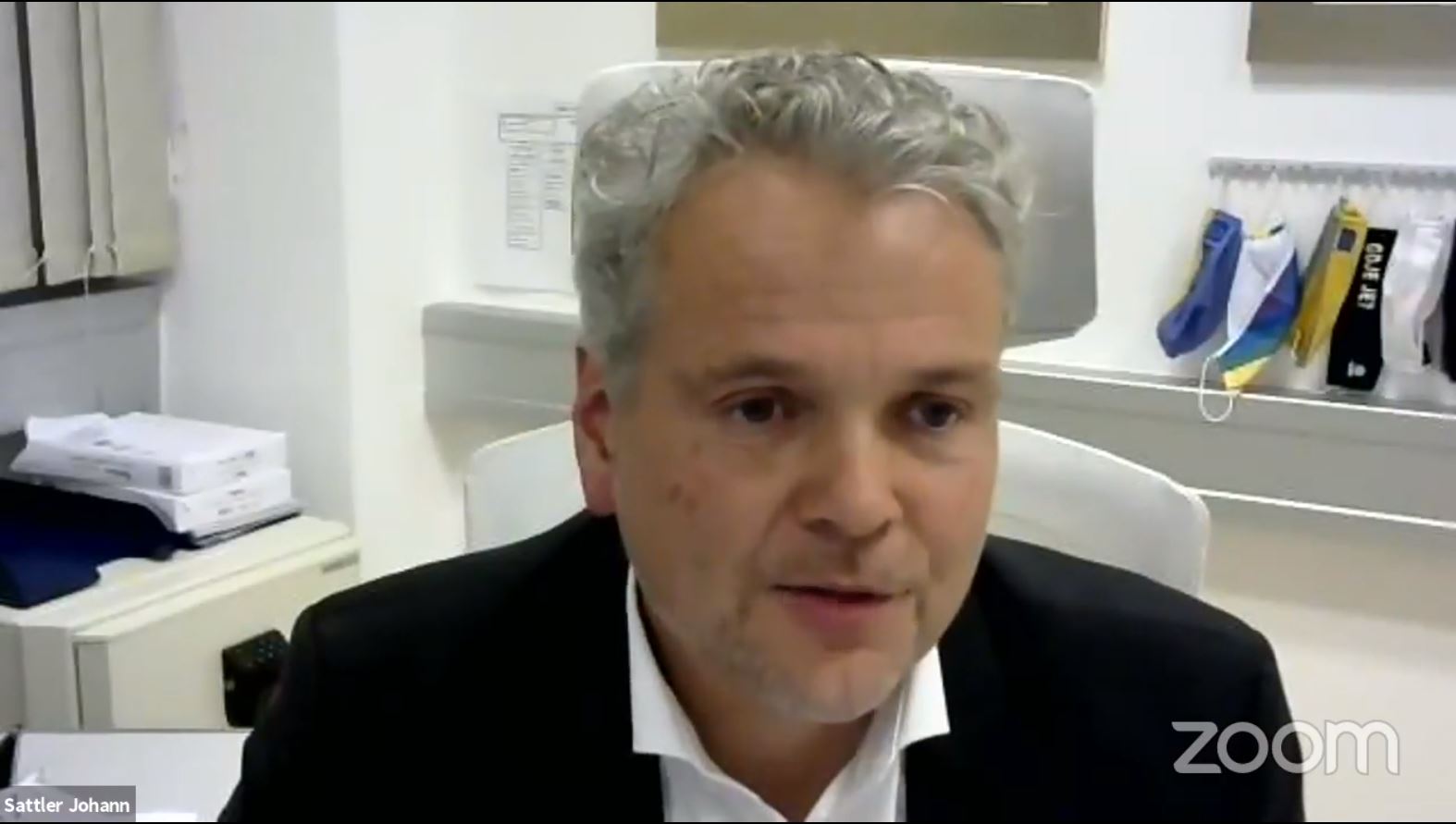 The third guest, His Excellency Johann Sattler, the European Union's Ambassador to Bosnia and Herzigovina (BiH), highlighted the relevance of BiH hosting the ERW Central Event for the first time. He paid tribute to event organiser Maja Hadžiselimović "for her inspiring engagement and dedication in promoting science and robotics in BiH" and to the people of BiH, and encouraged the audience to visit: "Please include this country in your travel plans – it's a wonderful place." The Ambassador noted that research, innovation, digitalisation and the development of new skills were key for the future of BiH, which was still recovering from its difficult recent history. Underlining the EU's support for BiH, he said: "I've had the opportunity to meet young people, investors, innovators, researchers and entrepreneurs and can confidently say that this country is full of creative potential." Noting the unique showcase that ERW provided, he looked forward to seeing what the rest of the event had in store and the latest breakthroughs in robotics.
"We live in challenging times and we rely on science perhaps more than ever to offer solutions to societal challenges - ageing, health, transportation, security, energy and the environment. The EU promotes scientific excellence both within the Union and in countries that aspire to become EU members like BiH and other countries in the Western Balkans. The rapid increase of the use of robotics in our homes, workplaces and hospitals shows how robotics can benefit our whole society. I hope this year's programme inspires young people, especially in this region, to take up a career in robotics and research new ideas and new solutions."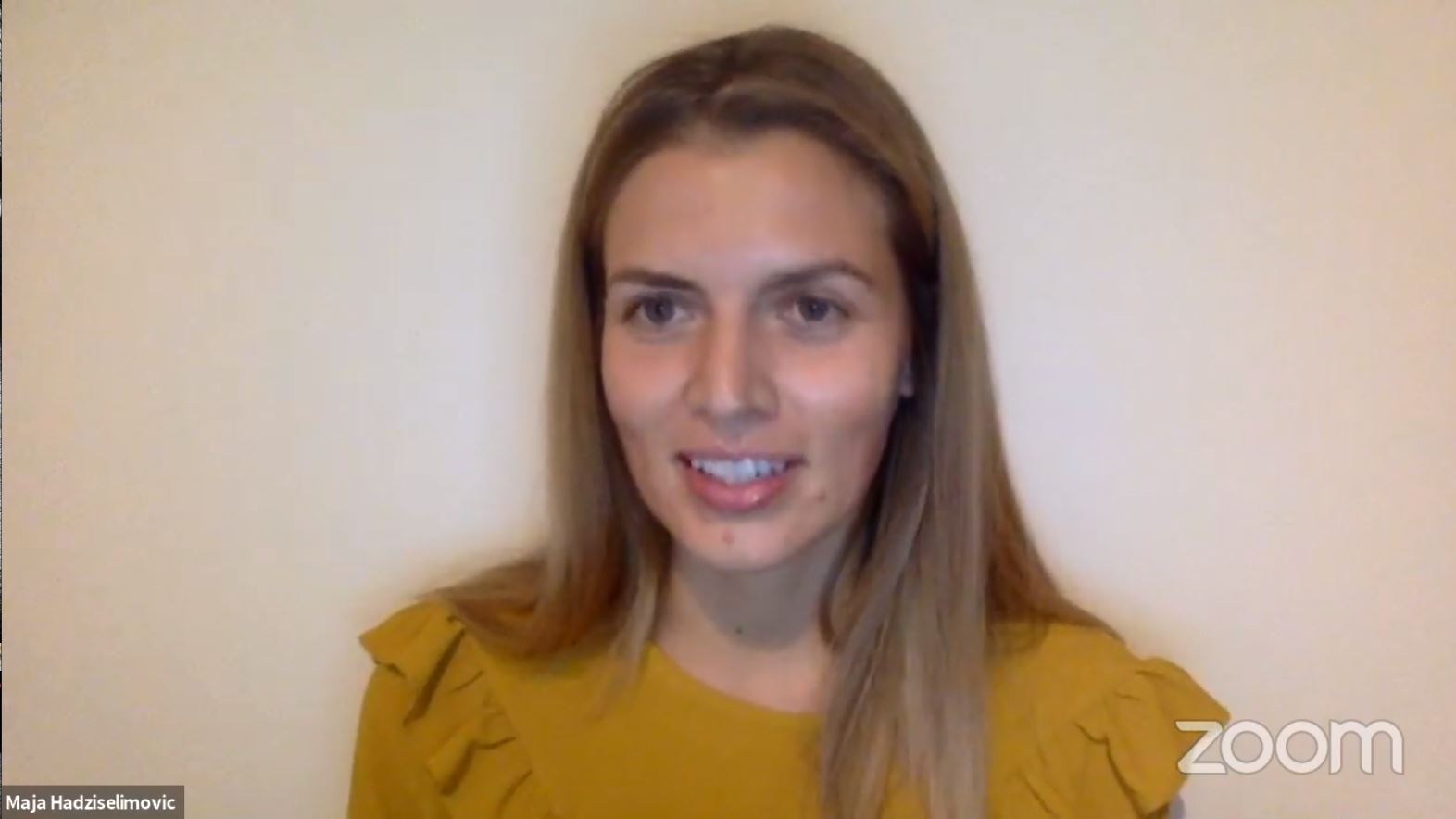 The final speaker was Maja Hadžiselimović herself, visibly delighted to be opening an event she had worked so hard to bring to BiH: "It's a great pleasure to welcome you at least virtually to the ERW Central Event in BiH. I'm above happy and excited to be here and to host this great event with my colleagues!"
After outlining the short but engaging story of BiH's participation in ERW since 2017, Maja said that by hosting the Central Event, "we want to present our country's potential and to show how we have outstanding students and universities willing to be part of robotics innovations together with colleagues from the EU and the world and help our country prosper. I am more than proud as National Coordinator to host this event."
The Opening Ceremony closed with a short video celebrating 10 years of ERW, which was made in collaboration with other national coordinators from, and which ended, fittingly, with a display of fireworks – virtual, of course.
[Ends].