Brokerage Event Registration and GA - Brussels Expo, 9th December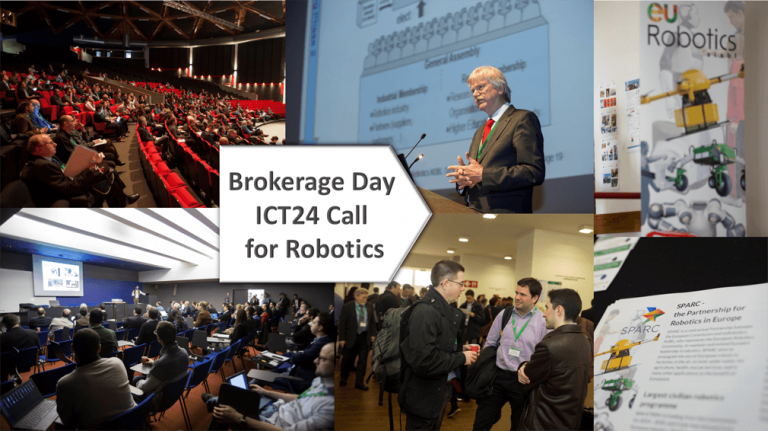 The main aim of the Brokerage Event on 9 Dec 2014 was to bring together stakeholders from the robotics field to meet and discuss potential project ideas and network. The event allowed any interested parties to make new contacts and find partners, especially during face to face matchmaking meetings. Furthermore, attending the brokerage event was an excellent opportunity to receive in-depth information on the Call, but also present your ideas and form new consortia for proposals.Around 300 participants from 30 countries have participated in the event. Over 50 teaser presentations on the ICT24 call were held.

Event Materials



The Introduction to the ICT 24 Call and rules for participation was supported by presentations from Juha Heikkila and Cécile Huet from the Robotics Unit of DG Communications Networks, Content and Technology.
For details of the Call refer to the website of the European Commission: http://goo.gl/K9QXxA

euRobotics AISBL is the "private" partner of the European Commission in the Public-Private Partnership in Robotics, called SPARC.  
This event encompassed the General Assembly of euRobotics AISBL, which was planned such that the "private" side of the Partnership, i.e., the members of euRobotics AISBL, ratifies input to the ICT Call 3 and 4 (2016/2017) as a result of the roadmapping process, of which the Topic Groups of euRobotics AISBL have a major share. Non-members were allowed to witness the General Assembly.
Agenda
09:00h Registration
10:00h Welcome and Introduction to SPARC 
10:10h Introduction to ICT Call 24 (Robotics) - Presentation from Commission
11:00h Rules of participation - Presentation from Commission
11:30h General Assembly of euRobotics AISBL, voting on suggestions for Call 3 and 4
12:30h Networking Lunch
13:30 – 16:30h Teaser presentations in parallel workshops