Building a network from the ground up: An interview with DIH-HERO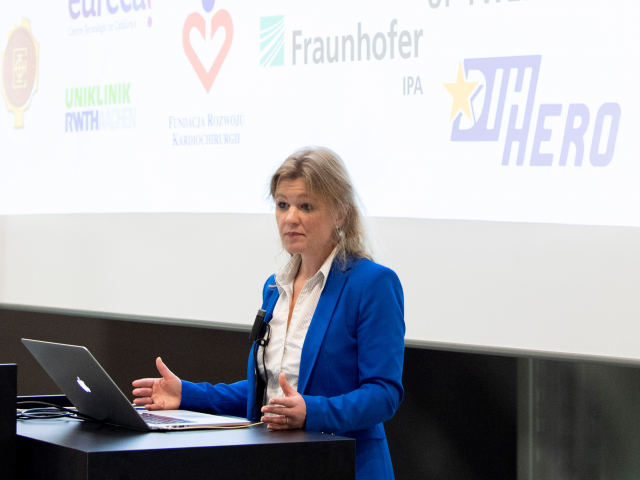 Robotics has the potential to revolutionise the field of healthcare. With people living longer than ever, providing high-quality care to the growing ageing population will mean re-assessing healthcare challenges and creating new technologies that address these shortfalls. Robotics can provide a stop gap and leverage areas in medical assisted care, for example, surgical robots allowing for minimal invasive surgery and carebots assisting with elderly care. Addressing safety and establishing trust is a top priority before anything new comes to market.
In this article we interviewed Dr. Françoise Siepel, Assistant Professor and Technical physician part of the Robotics and Mechatronics Group at the University of Twente. Both Dr. Siepel and Professor Stefano Stramigioli (Vice President Research of euRobotics) are leading the Digital Innovation Hub in Healthcare Robotics, or DIH-HERO. DIH-HERO addresses stakeholders from both small, medium enterprises (SMEs) and slightly larger companies. Their goal is to provide a sustainable platform to link up communication, research, development, and facilitation support whilst also helping the innovation flow as the companies bring healthcare robotics to market. The project consortium consists of 17 core partners spread across 11 countries in Europe.
As part of the process, HERO provides innovation coaching for SMEs to startup and connect them with partners to support jump-starting their robotics business. They also provide financial support through several 'calls', which will be explained in the interview. Both of these elements reduce initial start up pressure, helping SMEs focus on their business models and ideas in the healthcare robotics sector.
On your website there are several objectives for DIH-HERO I'd like to discuss. First, your plan to create a sustainable platform so stakeholders and businesses have a centralised platform for information, collaboration, and knowledge transfer. Second, plans to provide financial assistance. Why do you think it's important to accelerate robotics in healthcare and how do you think DIH-HERO will be instrumental in fulfilling this?
Françoise: Through the use of robotics there's opportunity to greatly improve healthcare in a meaningful way. For example, using a stabilized hand for microsurgery. We can use high-resolution images but high precision cannot be reached by manual interventions, thus, using a stable robotic hand is beneficial. What we are currently seeing with robotics is that it is an excellent accelerator to improve the status quo in healthcare. Currently, many conventional procedures happen manually in hospitals, that's an area where we could support and improve with current and new robotic steered/guided technologies. For example, focusing on certain areas in robotics, like streamlining logistics or better patient rehabilitation.
Unfortunately communication breakdowns do occur in what people think they want in healthcare robotics and what the providers actually receive. For example, providers may only want simple mechanics like being able to push a few buttons but instead receive something more complex and unwieldy. There's a mismatch between what people want and what is produced. That's especially challenging in the medical field. How do you talk to the end-user and create a compatible product they want but also one that can easily scale in the future?
Now the most difficult part is that a lot of expertise is spread throughout Europe. If you're spread thin this makes it difficult to go from 'initial idea conception' to 'market' as there are many steps in between. Then, there are considerations such as ethical protocols and phantom testing. It can take a really long time and effort before any new robotics ideas come to market. This is one of the main ideas with DIH HERO -- to help boost the whole process and innovation chain.
HERO only began in 2019, it is still in its infancy but really starting to grow. In the beginning we focused on establishing relationships with our 17 partners in the consortium. We had to identify the type of expertise within our network. Then we needed to consider things such as: what is the regional landscape in each country? What's the whole innovation chain for medical robotics in healthcare domains? This kind of exploration was to create a robust network and have a starting point to move forward and add value into the world network.
Now, we are looking to extend the network and have issued several calls. We are doing this to boost cross-border activities and we are focusing on SMEs specifically. The first call for financial support opened mid-July 2019, the travel voucher call. On October 1st we issued the technology demonstrator call to help boost the consortium that people are working together. Applicants will need to demonstrate filling a clinical need in one of five application areas: Diagnostic Robotics; Interventional Robotics; Rehabilitation Robotics; Robotics supporting Patients and Robotics supporting Healthcare Professionals.
Let's go back to creating a portal. So the overall goal is to connect innovators, policy-makers, SMEs, and large businesses. What does it mean as an SME if you join this network and make these connections?
We are looking to fill a massive gap. Most SMEs are local, small companies who are not yet connected to a broad network. Being a new company on your own can be tricky if you want to test your technology or launch a new product in the market. Some companies don't even realize or even consider themselves an SME. One difficult aspect with robotics in healthcare is not receiving input from end-users, for example the patients or surgeons, as I mentioned earlier. We can help increase connectivity within the network and they'll have access to education and business aspects at their disposal.
It's also easy to go to another location and test your innovation once you are part of our network and portal. Every institution has a point of contact and they'll be connected. For example, if you have a problem and cannot easily test within your own country, or you do not have the lab facilities, you can travel to another country in our network that has the facilities required. For SMEs, it is extremely important to build on trust, which is why they can get advice from beginning to end in our application domains. In a sense, it's ensuring people have the right business match.
Before the calls we had people who visited for regional info days and toured the labs. People really have to walk through the lab to get a feel for the opportunities and possibilities. There are limitless possibilities in robotics, it's important to create an atmosphere for technology transfer and see what is actually happening in the labs then discuss possibilities with other SMEs who are already part of the network. But as we've discussed earlier, we are still at the early stages of HERO so it can be challenging attracting new SMEs in a wide way. In order to have successful technology transfer to another field it's so important that people see what's going on and what is possible.
It's important for SMEs to think out of the box -- we really want to inspire them!
So bottom line: the one-stop shop approach is so people will have security if they create an idea but aren't sure what to do next. This is important. Unlike in certain areas, healthcare robotics must take ethical protocols into consideration because of the close proximity working with people.
Yes, that's something we need to do moving forward. It's about building partnerships, it's about building trust. Compatibility is key. There's fear introducing robotics within a hospital and ethical considerations must be present in all steps. It is important to take the actual needs into account and involve the right parties. Again, going back to technology transfer ideas, perhaps you can take inspection robotics and there's a natural synergy to discuss how tiny nanoscale sized robotics can also enter the body through blood vessels, or in capsule form.
We are offering a smart, intelligent way to build something collaborative. It's a grassroots effort we are building from the ground up. That way anyone who works in health care and robotics, be it, medical professionals, subject matter experts, or university students are also welcome to contribute and be part of this important conversation.
Part of what also makes this effort particularly interesting is that we do not know how many SMEs there are in each region and country. So, do connect to our network!
Anything else you think SMEs should be aware of?
SMEs should be aware of the complexity in healthcare. There are many steps along the innovation way: from their initial ideas to the market. Considerations such as obtaining intellectual property, business English language services, health technology assessment, attracting investors, and so forth. It's important for people to have the right connections as they move forward and create their own innovations. That's quite a difficult task. A major benefit with increasing robotics technology is, of course, that it can help decrease costs. But the whole innovation process takes quite a lot of time. So there are real challenges here.
On our side, there's a challenge in building a sustainable platform. We are putting a lot of time and effort into providing services. We want it to grow and expand over time, like with AI, perhaps with more technology support/intervention in the hospital and with homecare personal assistance outside the hospitals, there are challenges for implementing this in the future. But what's important now is to have a sustainable platform that can be used now and after four years it stays for the future.
I like you're building long-term. Sustainable is a buzzword we hear more than ever, but it's important when it comes to projects. Instead of creating one-off projects, there's an opportunity to continue growing it each year into something useful and self-sustaining.
Yes, and that's also true of the whole innovation chain as well. It's like looking at a puzzle in pieces. You don't know where the strengths are and how these pieces connect. But once you're able to begin connecting these partnerships and alignments, by continuing to build a sustainable platform within Europe, we are able to see the bigger picture come together.
To that end, we'll be able to build a whole innovative, collaborative healthcare robotics network throughout Europe.
Learn more
Read our other interview about RIMA network 

DIH HERO website: https://dih-hero.eu/

European Commission, DIH HERO: https://cordis.europa.eu/project/id/825003  

DIH-HERO Open Calls: https://dih-hero.eu/calls/
This work has received funding from the European Union's Horizon 2020 Programme under the RODIN project, grant agreement n° 825263.