euRobotics at IROS2018 in Madrid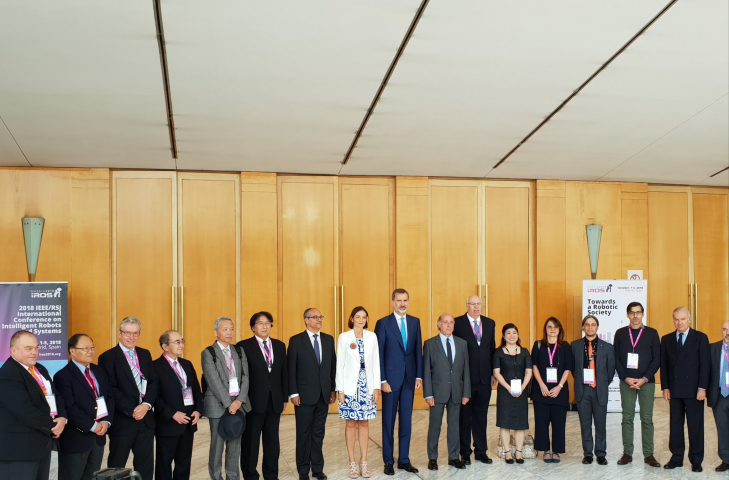 euRobotics attended the 2018 IEEE/RSJ International Conference on Intelligent Robots and Systems (IROS 2018), held on October 1-5, 2018, at the Madrid Municipal Conference Centre, in Madrid, Spain.
The conference included plenary and short keynote presentations, contributed papers sessions, workshops and tutorials, numerous robotic challenges, exhibition with live demos, and several forums, as well as entrepreneurship and educational activities.
This year's theme "Towards a Robotic Society" has focused on advanced technological innovations (human-robot interaction, humanoids, social robots, autonomous systems, intelligent perception), as well as on societal aspects (legal issues, regulations, robotics ethics, human–robot co-existence, employment).
Bernd Liepert, President of euRobotics, spoke during the opening of the event, on 2 October emphasizing that: "Even more than last year, robotics has been an omnipresent topic in the media and continues to become part of our daily life. Both our working and our private sides of life are affected by robotics and related technologies, especially artificial intelligence, cloud technology, 5G, and big data. However, mechatronics, new materials, and battery technology also have an impact on our lives in the physical world. The societal challenges are enormous, we need to re-think the structures and processes in many application areas, such as the healthcare sector or elderly and home care. We also need to raise awareness about the offerings of modern technology to the wider public, where the acceptance rate seems to be quite different in various parts of the world. Furthermore, the current global challenge is to create sustainable business infrastructures to make best use of the potential of clever brains. Innovation and transforming research results to actual products and services are key to our future."
His Majesty King Felipe VI of Spain inaugurated the event.
Dr. Bernd Liepert, President of @euRobotics, welcoming His Majesty the King Felipe VI of Spain at @iros_2018 pic.twitter.com/ibAvhHSdH7

— euRobotics (@eu_Robotics) October 2, 2018
Reinhard Lafrenz, Secretary General of euRobotics, contributed with a presentation about Digital Innovation Hubs to a forum-style workshop organised by the European Commission on 4 October. The forum showcased the European Artificial Intelligence (AI) strategy and up-coming funding opportunities linked to robotics and AI.
Reinhard Lafrenz from @eu_Robotics presenting the coming #robotics DIHs at #IROS2018 two coordinated from #finland by @TampereUniTech and @VTTFinland pic.twitter.com/0GzeG17sZp

— Robotiikkayhdistys (@Roboyhdistys) October 4, 2018
Download the presentations from the EC Forum during IROS2018
euRobotics has been present with a booth at IROS2018 to inform attendees about the upcoming events, the European Robotics Week 2018 Central event, on 16-18 November in Augsburg, Germany, and the European Robotics Forum 2019, on 20-22 March 2019, in Bucharest, Romania.
Inspiring days at #IROS2018 in Madrid: Reinhard Lafrenz, euRobotics Secretary General, together with VP Industry Rainer Bischoff and VP Research Stefano Stramigioli at the euRobotics booth. Thank you to Carlos Balaguer, President and organiser of the event pic.twitter.com/UPCKAVxdth

— euRobotics (@eu_Robotics) October 4, 2018
Several members of euRobotics have also exhibited at IROS2018:
S.M. Rey Felipe VI @Casa_ReaI visitando el stand de nuestros amigos de @PALRobotics en #IROS19 (Reem-C en primer plano - plataforma de investigación robótica humanoide bípeda de tamaño humano) #GREX19 pic.twitter.com/56lrQndOoQ

— Global Robot Expo (@globalrobotexpo) October 2, 2018
Bernd Liepert of @KUKA_Press
presenting latest #robotics technology on a #KUKA iiwa #robot arm to the King of #Spain Felipe VI at #IROS2018 in #Madrid. @iros_2018 @eu_Robotics @RoboticsEU @SPARCrobotics pic.twitter.com/IgLAX81iYM

— Thilo Zimmermann (@ThiloZimmermann) October 2, 2018
SciRoc/ European Robotics League, the EU-funded project where euRobotics is a partner held some competitions.
Hello from #Madrid ! #ERLconsumer robotics competition at @iros2018 . Come to see the 8 international teams and their robots. In the picture the robot from team #SocRob Lisboa. #robotics @RoboticsEU @sparcrobotics #cutetobots #ERL #EuropeanRoboticsLeague #servicerobots pic.twitter.com/58fCX7dD6O

— ERL robotics league (@ERLrobotleague) October 1, 2018
IROS 2018 welcomed more than 3.000 attendees during one week among conference contributors, exhibitors and visitors, competitions teams and VIP personalities. The robotic exhibition had about 150 stands of leading commercial firms in robotics, European research projects and the most advanced robotic research centres.