Event report: "Joining forces to boost AI adoption in Europe" - a Public Private Partnership in Artificial Intelligence
Europe is gearing up to launch an Artificial Intelligence Public Private Partnership (AI PPP) that brings together AI, data, and robotics. At its core is a drive to lead the world in the development and deployment of trustworthy AI based on EU fundamental rights, principles and values.
The effort is being led by two well-established associations representing over 400 European organisations from Industry and Research: the Big Data Value Association and euRobotics. A first step in this process saw the launch of a consultation document in Brussels last week entitled "Strategic Research, Innovation and Deployment Agenda for an AI PPP".
The opportunity for Europe
The strategy document comes on the backdrop of international competition, with every country vying to take the lead in AI.
Roberto Viola, Director-General of the European Commission, DG CONNECT, linked it to the recently disputed European Champions League match between Tottenham and Liverpool, which saw an unexpected roster of teams make the final. "Are you sure that China and the US will lead AI? Watch our planes, watch our industrial robots, watch our cars - why are we so shy about our successes? I've been around the world, and I'm always asked how Europe can work with other countries in AI. I don't think we've lost the race, in fact I don't think it's a race. If it's a race, it's about delivering good services in AI to Europeans. We can be in the final of the Champions league."
Viola says harmonious cross-fertilisation across three dimensions is needed to make AI a success in Europe. First, the EU needs to mainstream AI in society and the economy. Companies have to find their place, and there is a big role for the public to support AI and its introduction in real scenarios. This is the part missing in the EU, compared to US and China. There is a need for more big public procurement. Second, there is a need to push for research and development in AI through European funding programmes, and third, policy is needed to accompany the development of AI in society.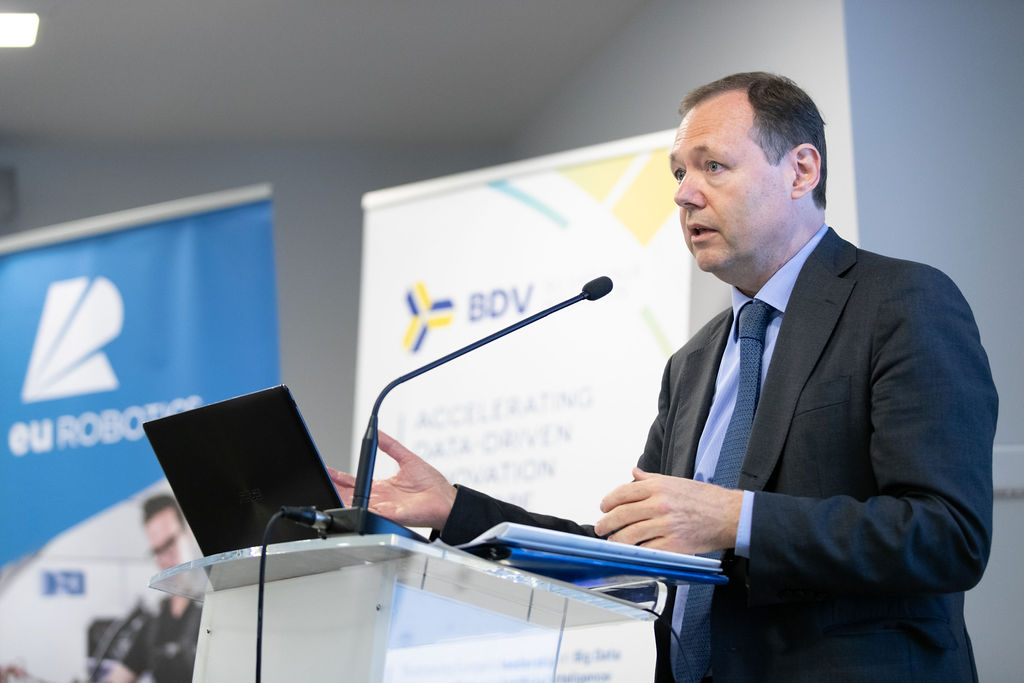 Photo: Roberto Viola, Director-General of the European Commission, DG CONNECT; Credits: Octavian Carare
Trustworthy AI
Viola says "Europe was one of the first to develop ethical codes in AI, and now everyone is doing it. It shows that we know what is important and the impact and relevance of AI for society."  Responsible AI was the leitmotif of the day, with everyone highlighting it as Europe's unique selling point. The message was clear, Europe can do excellent AI, but is leading in terms of deploying it with society in mind. Juha Heikkilä, Head of the Robotics and Artificial Intelligence Unit at the European Commission says "Europe is doing things in a different way - that takes the citizen into account."
AI Market Opportunity
The combination of big data, advances in algorithms, computing power, and advanced robotics is opening up new market opportunities for AI enabled systems.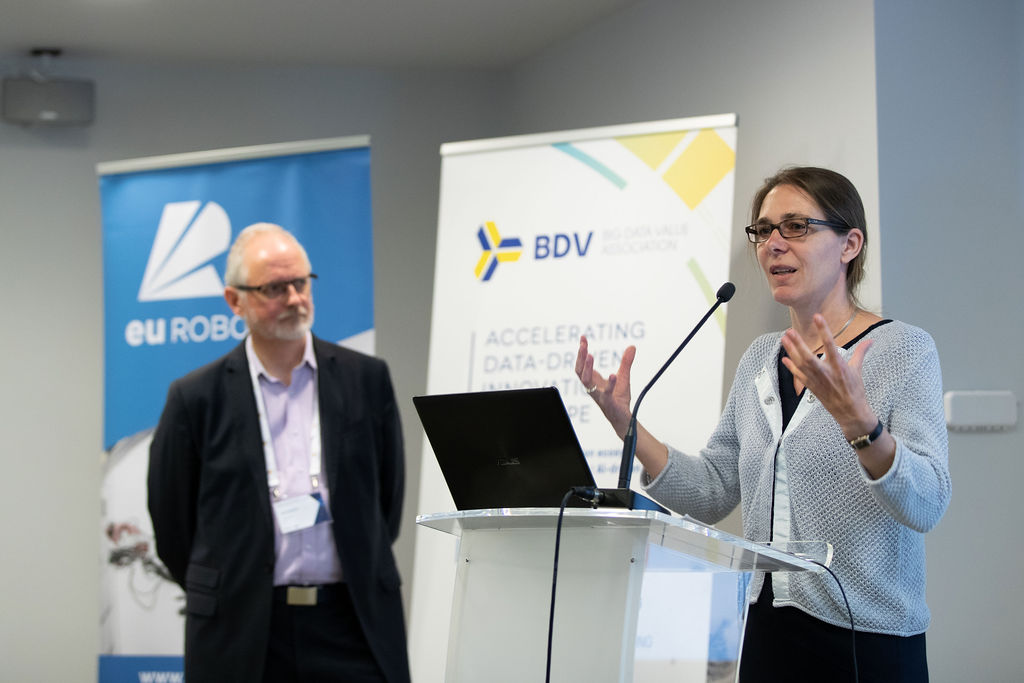 Photo: David Bisset, Director - euRobotics, Sonja Zillner, Siemens AG; Credits: Octavian Carare
Sonja Zillner from Siemens, Co-Chief Editor for the strategy, says "the vision is to boost EU industrial competitiveness and lead the world in development and deployment value-driven trustworthy AI". When asked for their preferred applications for the development of AI, the public requested improved healthcare services, energy efficiency, and availability of trains, as well as increased productivity in digital factories. This led to the realisation, Zillner adds, that "AI is across all sectors. All the sectors are investing. This is an important take-home - working across sectors is really central. We want to leverage AI driven market opportunity, across all sectors."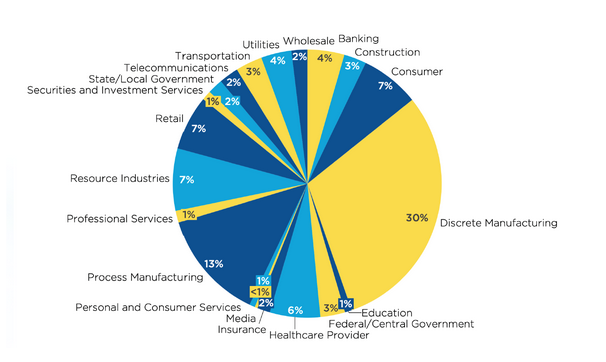 A European AI Framework
David Bisset, Executive Director of euRobotics and Co-Chief Editor of the strategy presented an AI Framework that builds on the legal and societal fabric that underpins the impact of AI in Europe. Central to the success of this framework will be an ecosystem that brings together skills, data, and environments to experiment and deploy the technology.  Bisset says "we need data stores, regulatory sandboxes that allow us to test robots in cities without breaking the rules, we need EU regulation that creates a level playing field". New technologies that work across sectors are needed for sensing, measurement and perception, continuous and integrated knowledge, trustworthy, hybrid decision making, physical and human action and interaction, systems, methodologies, and hardware.
Boosting the adoption of AI in Europe faces several challenges however, including the lack of skills, technology problems, lack of private investment, complexity of deploying products, and the policy and regulation landscape. Bisset says "We need a collective action from all stakeholders to address these challenges - we need an AI Innovation ecosystem". Stakeholders include researchers, innovators, technology creators, regulators, users, citizens, investors, data suppliers, and application providers.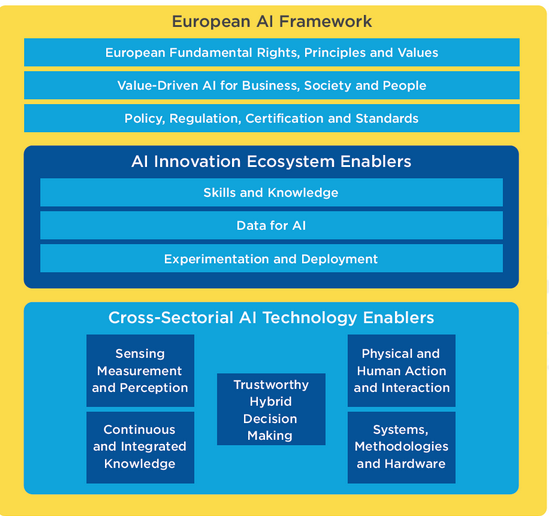 The implementation of the AI PPP will address the following Working Areas.
WA1: Mobilising the EU AI ecosystem
WA2: Skills and acceptance
WA3: Innovation and market enablers
WA4: Guiding standards and regulation
WA5: Promoting Research Excellence
Words of Wisdom
The event closed with a panel discussion, here are some nuggets of wisdom.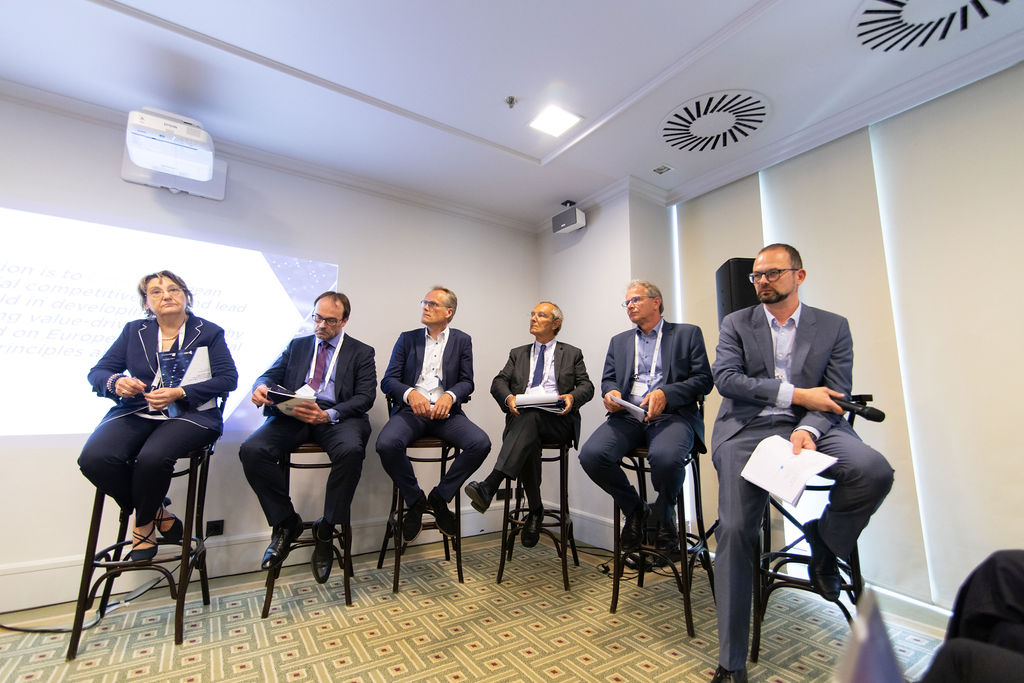 Photo: Panel; Credits: Octavian Carare
"We will not have enough people to treat patients. Without AI, without robotics, it will be a disaster for patients. Whatever the cost, patients will demand their treatments. Treatments will be better, more precise with AI."  Rolf Roussaint, Director of Anaesthesiology at University Hospital Aachen.
"We need to measure that AI is bringing benefits - measurable AI is important, maybe more important than explainable AI" Henk-Jan Vink, TNO Managing Director Unit ICT.
"We should not be too shy about what the EU is doing in AI - we should be proud."
"We need to be inclusive, it's not robotics vs AI. We see robotics and AI as two sides of the same coin. One is a physical instantiation of AI. We need to join forces." Juha Heikkilä, Head of Unit, Robotics and Artificial Intelligence, DG CONNECT, European Commission.
"Don't fall in love with the technology - researchers are in love with the technology - and industry with profit. Instead we need use cases proving the new benefits for services and impacts on quality of life that AI can bring." Gabriella Cattaneo, Associate Vice President of IDC4EU European Government Consulting Unit.
"There will be no progress for AI if we can't find a way for researchers and startups to have access to data." Hubert Tardieu, ATOS, Advisor to the CEO.
"In China and the US data is not an issue. The EU doesn't have that data however - or it's not shared due to concern. Focussing on the citizen is really important, but we also need to push for access to data." Federico Milani, Deputy Head of Unit, Data Policies and Innovation, DG CONNECT, European Commission.
Call for collaboration
To conclude the event, Thomas Hahn, President of BDVA and Bernd Liepert, President of euRobotics, moderators of this event and the panel, launched a call for participation and collaboration to all European players active in this domain and committed to boost AI adoption in Europe!
Photo: Bernd Liepert, President of euRobotics, Thomas Hahn, President of BDVA, Credits: Octavian Carare