Robot workshops for children all over the world, made in Belgium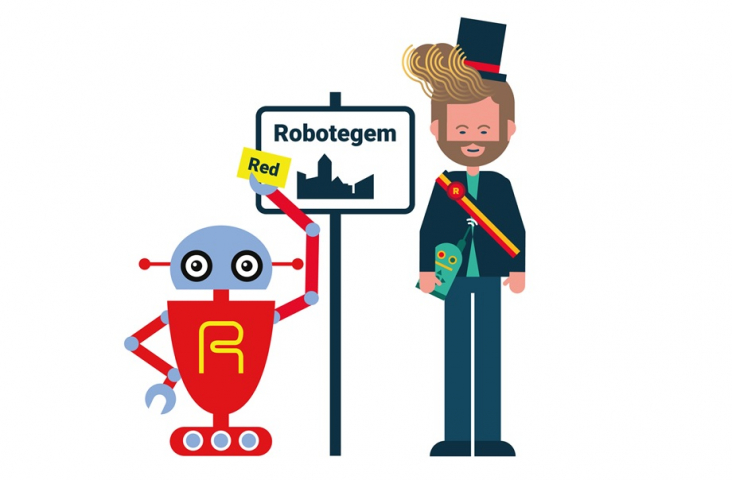 The need for IT and robotic programming skills is growing dramatically, while in many countries across the globe these technical skills are still not part of the daily courses at school. For many teachers in primary and secondary schools, it is not obvious how to prepare a technical class. In Belgium, many initiatives were founded to assist in the teaching of technical and robotic skills and to inspire young people to acquire them. In this article we will describe 4 of these Belgian initiatives: Dwengo, RoboCup Junior, OPSORO and STEM Heroes. Find out about these different initiatives and how to get involved!
Dwengo
In 2009 in Belgium, six engineers decided to found a volunteer network that designs and provides educational packages for teaching technical skills such as programming, buildings robots or automating difficult tasks. Up till now, more than 1.000 volunteers are collaborating, and together we reach more than 10.000 children every year.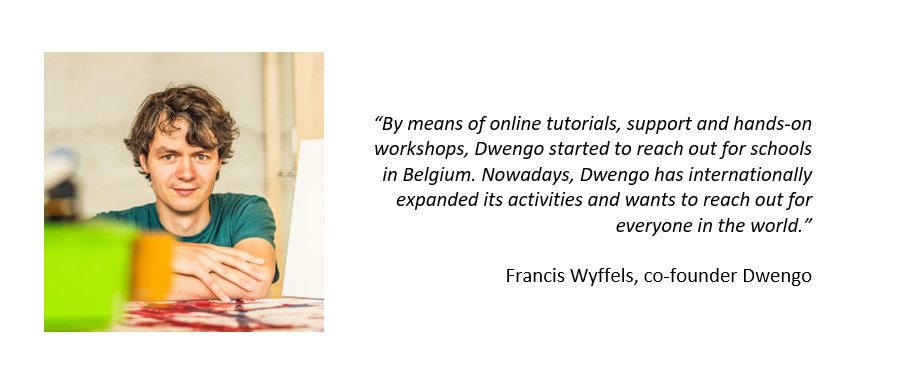 Dwengo tries to help already existing local communities by offering them expertise and ready-to-use tutorials, hardware kits and robot simulator (blockly.dwengo.org). Dwengo also offers ready-to-use course materials. For example, with WeGoSTEM, elementary school teachers can freely borrow the materials at the public library to build a drawing robot in the classroom. In AI at School (aiopschool.be), teachers and students learn the concepts of AI and its application in biology, linguistics, healthcare, art, etc.
The strength of Dwengo lies in international collaboration. Every year new projects are launched in different countries. All these projects combine STEM expertise and didactics.
Photo credits: Dwengo
To achieve the highest quality, Dwengo collaborates with international researchers and teachers. This two-way collaboration has helped Dwengo to reach a unique position in the computer science education landscape and resulted in winning twice the Google RISE award and the Queen Paola award for education for their unique approach.
If you want to join as a volunteer for your country or use the teaching materials, check out the website https://www.dwengo.org
RoboCup Junior – broadcasted from Robotland
Since 2009, RoboCup Junior is organised in Belgium as a collaboration between the different Flemish universities and university colleges at Ghent, Brussels, and Antwerp.
RoboCup Junior is the little sibling of the RoboCup, an annual international robotics competition where researchers from all over the world come together to participate in various challenges. A dedicated education book was developed, and workshops were available for training teachers. During the finals also the research labs demonstrate their robots to further inspire the youngsters.
This year, because of COVID-19 pandemic, the competition was organised in a virtual way, and the final session was broadcasted from within Robotland. Unlike the traditional competition, where teams collaborate and build a robot to participate, this year the focus was on designing robot solutions to solve the societal challenges in the virtual city "Robotegem."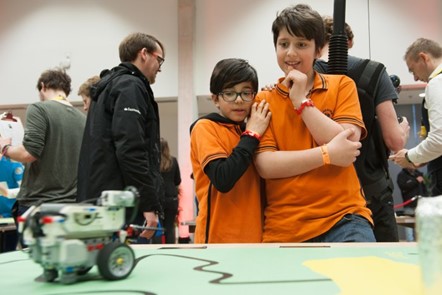 Photo credits: RoboCup Junior
Robotland is a private initiative to promote STEM education and provides an alternative to adventure parks such as Disneyland, focusing on experiencing robots and technology in real-life. In the park you can drive a Segway, interact with several robots, fly over the Grand Canyon with 3D VR glasses, order drinks at the RobotBar, drive a bobcat, etc.
Opsoro
OPSORO (Open Platform for SOcial RObotics) is a research project from the Ghent University. This robotic platform is more than a robot, it democratises social robot technologies and is meant for everyone, not only techies, makers, or developers. Your age or gender does not matter, you try out the PLAY module and build your own OPSORO without having any developing knowledge: https://opsoro.ugent.be/
OPSORO combines its open software platform with an open, modular, social robot, named ONO. This offers novices a Do-It-Yourself design toolkit that enables the construction of your own social robot, by using reusable hardware components in a custom designed look-and-feel for your robot. This way, you can create a good-looking social soulmate that can interact with you in real-life or even via social media.
Photo credits: Opsoro

STEM Heroes
'STEM heroes' is a large-scale media campaign aimed at young people (10 to 14-year-old), parents and teachers broadcasted on national public television as well as via social media. In each episode a 'child reporter' explores a specific STEM discipline and their relation to a societal challenge. The campaign is funded by the Belgian sector funds of specific industries and coordinated by the Flemish STEM platform and Technopolis. The video material is aligned with relevant curriculum standards and can be used in classroom education. The concept is always the same: a theoretically trained STEM professional and a trained STEM professional show how, together, they ensure that their company can solve a socially relevant problem. Examples include recycled plastic, safer and more environmentally friendly cars, safety of money in the bank, easy access to job vacancies on the labour market, etc. If you want to get inspired, here is a link to the library of videos: https://www.technopolis.be/nl/stemhelden/
Authors: Wouter Haerick , Philip Leroux, Francis Wyffels, Bram Vanderborght, Jelle Saldien and Céline Van Rijckeghem