Call for sponsors and exhibitors at ERW2019 Central Opening Event
The European Robotics Week 2019 (ERW2019) Central event, on 14-16 November 2019, in Poznan, Poland, is offering opportunities for making prospective partners visible at their selection: Platinum, Gold, Silver and Bronze sponsor, as well as standalone options, such as booth only.
The ERW2019 Central Event can provide your organisation with:
Presence at the Central event of largest robotics education outreach campaign, with 1200 activities organised in over 30 European countries
Increased marketing opportunities including visibility on the event website and associated marketing materials
The possibility of getting exposure of your brand on national and international media
A cost effective way to reinforce your organisation's brand and raise awareness amongst your future employees
A unique way to show your company's contribution to the development of the workforce for the future, by empowering people to thrive in the digital economy
An opportunity to build and reinforce strategic relationships within the robotics sector in Poland and Europe
Access to a broad network of industry, research, investment, policy and media representatives
The exhibition will accompany the event, and it will be held in the Poznan University of Technology Lecture and Conference Center.
Download the full sponsoring and exhibition packages
---
Sponsoring packages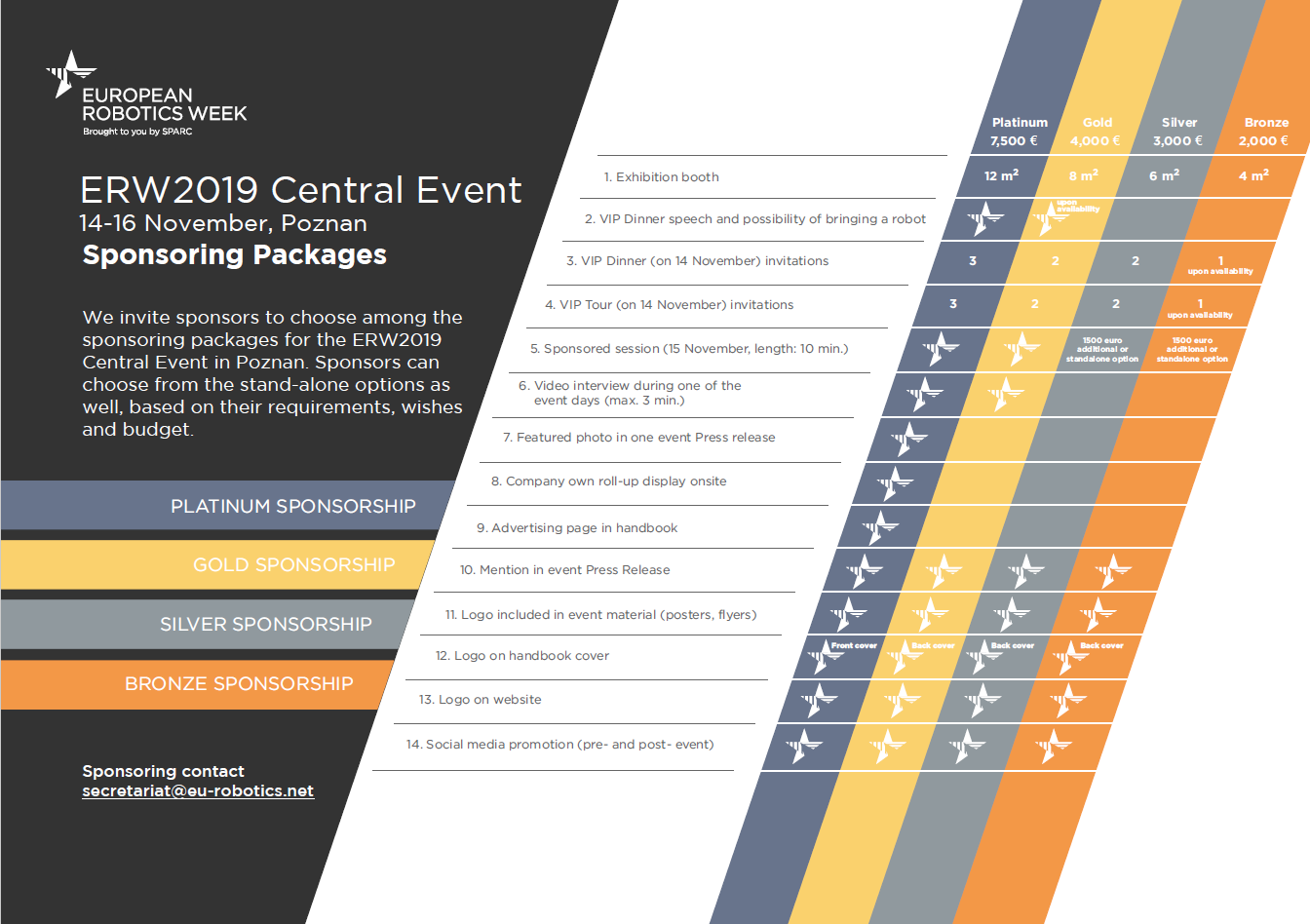 Standalone options
Booth only
minimum booth size: 4 m2 for 800 EUR for with euRobotics members getting 5% discount
each additional square metre costs: 150 EUR (including for sponsoring packages)
Exclusive benefits of acquiring a booth:
exhibitor's logo / name on the floor plan to be published on website, event print brochure, final ERW2019 online handbook and social media (Twitter, Facebook, LinkedIn)
booth showing in event videos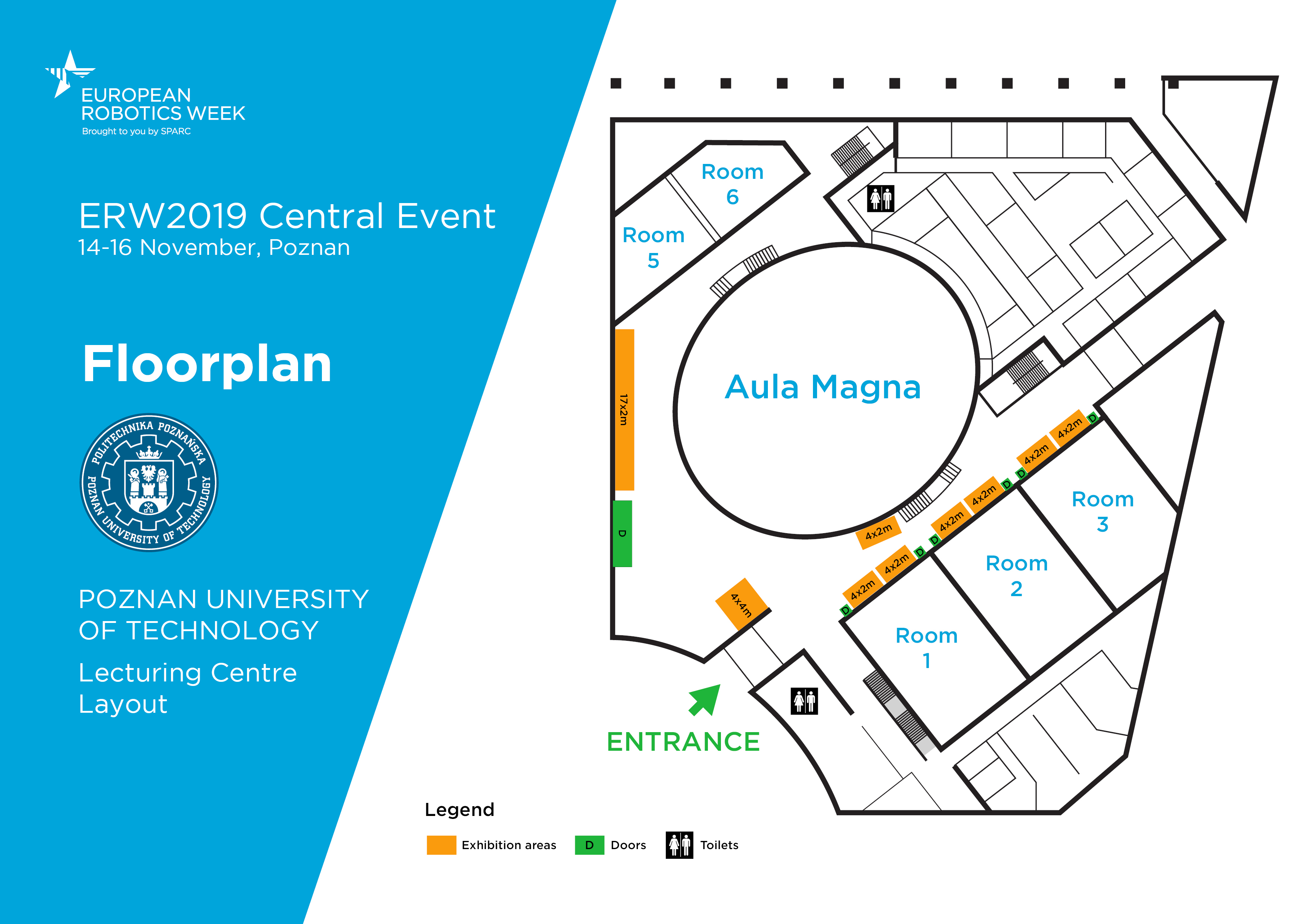 ---
ERW2019 Handbook A4 advertising page
Outside of Platinum sponsoring package: 1,000 EUR
---
Sponsored session presentation
1,500 EUR - includes 10 minutes presentation during the Sponsored sessions on 15 November. Both sponsors and non-sponsors can apply (included in Platinum and Gold packages already. Bronze and Silver sponsors can acquire it at the price of EUR1,500).
Exclusive benefits of acquiring a sponsored presentation:
Opportunity to demonstrate the company's profile to the event participants;
Includes hall rental, standard audio/visual equipment and staff assistance in the room;
The synopsis will be included in the ERW2019 Handbook and the presentation will be uploaded on the event website;
One roll-up banner to promote the presentation on stage. To be set up on the day of the event. The presenter has to bring the roll-up;
Timeslots are allocated on a "first-come, first-served" basis.
---
VIP Dinner
2,000 EUR - equivalent to Bronze sponsor pack (benefits 10-14 from the table above apply as well)
Exclusive benefits of sponsoring the VIP Dinner:
sponsor's logo on table dinner signs
sponsor's logo on the meeting presentation slides
1 additional dinner invitation