Automatica's exhibitors were trumpeting Industry 4.0. Is this the turning point for robotics?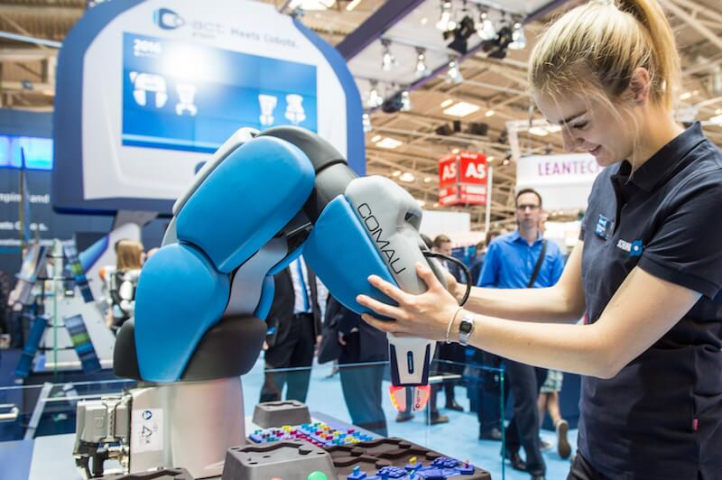 Industry 4.0 – the fourth industrial revolution – was the main theme at the largest robot and automation fair in the world, Germany's AUTOMATICA, which took place in Munich throughout last week. But what exactly is Industry 4.0 and how do developers and manufacturers big and small believe it will revolutionise production?
The signs and banners were everywhere throughout the gigantic conference arena: "The heart of Industry 4.0", "Welcome to the 4th industrial revolution" and "Hello Industry 4.0, we go digital!", trumpeted by leading German robotics supplier, KUKA.
Industry 4.0, the next phase in the digitisation of the manufacturing sector, is predicted to drive up manufacturing's share of GDP in Europe by 20 percent over the next five years. Consultants McKinsey say it is "driven by four disruptions: the astonishing rise in data volumes, computational power and connectivity, especially new low-power wide-area networks; the emergence of analytics and business-intelligence capabilities; new forms of human-machine interaction such as touch interfaces and augmented-reality systems; and improvements in transferring digital instructions to the physical world, such as advanced robotics and 3D printing."
The coming changes are set to result in a host of new opportunities, say Industry 4.0 enthusiasts such as KUKA, which enticed the public onto its exhibition space with the showstopping Paulii Brothers – a pair of LBR robots perfecting, jointly, the fine art of pouring a German wheat beer. But the company's massive orange-hued demonstration area also featured a smaller exhibit, a screen showing every one of the dozens of networked KUKA robots at AUTOMATICA, with the possibility of pulling down data on rate of operation, speed and more.
"KUKA is not just about robots," Wolfgang Meisen, the company's Head of Communications, pointed out. "It's also an application provider and systems provider, with full automation assistance. The robot is one of the key elements.
Industry 4.0 is about more flexible production, processes and interconnection – machines, systems, software and devices working together. The robot is the junction between the digitalisation of the software and the mechanics."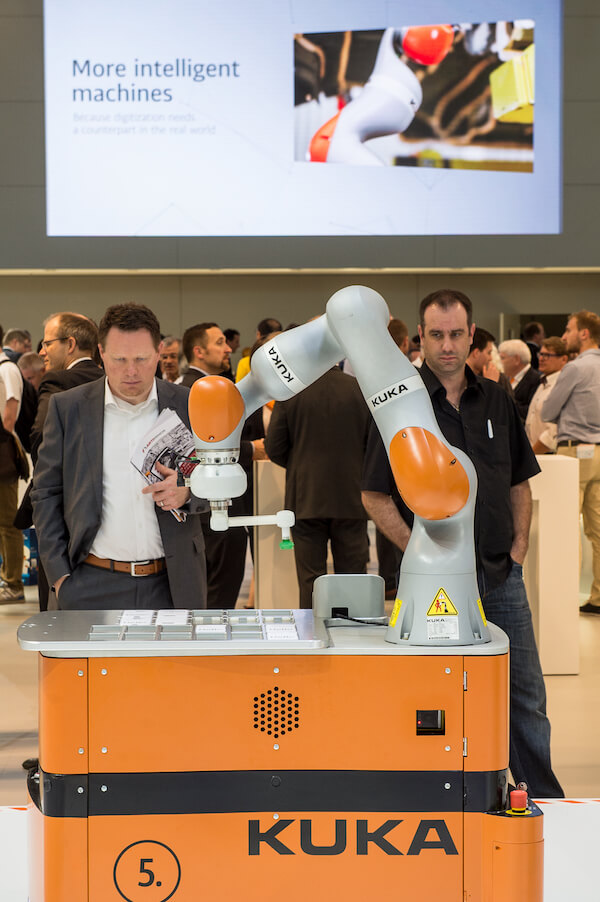 Experts believe that within two years the first wave of factories using smart technology will be fully operational, with widespread adoption throughout the world in the next decade. So the big manufacturers were out in force at AUTOMATICA, gearing up for what they see as the a major push for their products.
With an appearance by German goalie Jens Lehmann on its stand, clamping and gripping systems manufacturer Schunk, was clearly hoping for an additional push. But when in comes to Industry 4.0, the company believes the goal is "connectivity." General Manager, Tomas Berg demonstrated this by comparing parallel exhibits. On the left, a scissor equipped pneumatic gripper and, on the right, a sensor studded version with all the corresponding connectivity on offer, such as putting output data on screen to inspect rate and speed and to highlight any broken links in the production line.
The key attraction, said Mr Berg, is the ability to deliver more productivity through the flexibility of being easily able to change production lines. Thus removing the need for multiple lines of production.
Industry 5.0 already?
Flexibility is also at the core of the approach taken by leading collaborative robot (cobot) manufacturer Universal Robots. Not satisfied with the promise of Industry 4.0, it wants to take things further, according to Regional Sales Director Per Kloster Pollster:
"We see a big future when we can start analysing all that information and that will increase the development of products and optimisation of production. We are talking the fifth industrial revolution already. When that happens, the automation business will change a lot because the next big thing will be flexibility."
Collaborative robots, he maintains, make it so much easier to quickly and simply push though the development of products and deliver that flexibility. Universal's strategy continues to rest on the enabling power of collaborative robotics which, they stress, offer the lowest return on investment, with no need for extra software or safety glass; the robot is used with ultimate simplicity, as a tool.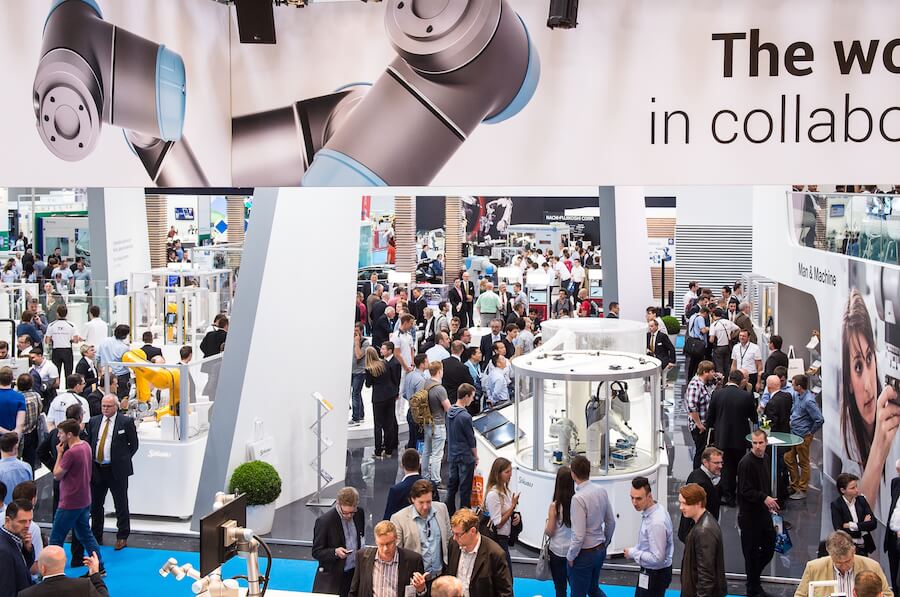 Image: Messe München International
Some were disappointed that Universal, arguably the stars of Automatica two years ago, were not launching any new products. Their range still consists of the UR robot in three different sizes, with a focus on selling out of the box. Instead, the Danish company is expanding the service it offers customers and developers with the free-to-use Universal Robots Academy, an e-learning facility, as well as Universal Robots Plus. Mr. Pollster described this as a robotics version of the App store, opening up the company's products to developers.
Universal's success is indicative of a trend toward smaller and lighter robots for pick-and-place applications, small-part assembly, machine tending, material handling and logistics.
And where two years ago the Messe Munchen arena was packed with caged robots, their liberated successors were out in force in 2016, inspecting parts and lifting cars but also making coffee and pouring beer.
In fact, the biggest launch at the fair was by Italian manufacturer Comau, which was showcasing the world's first high payload collaborative robot, capable of lifting 110 kilograms.
The success of the collaborative formula is demonstrated by figures from the German automotive industry, unveiled at AUTOMATICA: the number of robots rose by 17% between 2010 and 2015, while the number of employees increased by 13%. Evidence that man can co-exist very effectively with machine, providing employment for both.
The belief at AUTOMATICA is that the potential of collaborative robots is so huge that we're now just scratching the surface. Key to enabling the delivery of real time contextual knowledge to the enterprise, they pave the way toward hybrid factories with humans, robots and cobots – the future of manufacturing and Industry 4.0.
Acceptability and standardisation
British startup the Shadow Robot Company is also gearing up for Industry 4.0. "As the flexibility of manufacturing processes increases, the need for more general purpose automation also increases," said the company CEO Rich Walker. "At present, humans step in to provide this flexibility. But highly flexible grippers derived from dexterous hands will allow Industry 4.0 systems to handle far broader ranges of parts and components than more traditional fixed automation."
But if people think robots will replace them, persuading them to accept robotic solutions is one of the challenges for Industry 4.0, believes Maxime Banon, Business Analyst with Spanish startup PAL Robotics.
Several of the company's award winning robots were in attendance at AUTOMATICA, including TIAGo, a flexible, configurable robot to assist people in repetitive, dangerous or annoying tasks, including light industry.
But just as challenging to achieve as acceptability is standardisation, says KUKA's Wolfgang Meison. "If we want interconnection, that means solving the challenge of connecting systems that may be programmed in different languages, with different software platforms and communication standards. We need interface solutions and that means a broad alliance to establish new standards for real-time communications. We're still not there yet and it's why Industry 4.0 can't be solved by a single provider. We need a model that we can push forward together."
Altogether, German manufacturers have pledged €40bn a year to help support new smart factory initiatives, and €200m of state funds has been earmarked for specific areas like human-to-machine interaction and cyber physical production systems within Industry 4.0.
With manufacturing contributing 22 percent to Germany economy, their interest in Industry 4.0 is understandable. But worldwide, the phrase is a relatively unfamiliar one. Six in 10 UK manufacturing managers have never even heard of Industry 4.0 according to a recent poll.
Mike Fair, Application Sales Manager at Rethink Robotics, says that in the US, more commonly used buzzwords include agile, efficient systems and the Industrial Internet of Things. The company was one of the first to market collaborative technology and their current model, Sawyer, is still the only widely available robot that makes use of an expressive interface. The robot has eyes which look to where it is working and which frown to indicate that parts can't be found. In his presentation at AUTOMATICA's Forum, the company's Director of Sales for Manufacturing Solutions, Chris Harbert, said that research had shown that this was significant for people. "It gave comfort," he said. "Emotion is important."
Nestled in among the believers in Industry 4.0, there is also a caveat, that a slogan such as Industry 4.0 is not enough. In the words of Comau CEO Mauro Fenzi: "It's a good framework for the industry to use in automating factories, but now we need to fill the empty box with good ideas to benefit customers."
A step change is needed before robotics reaches its full potential, says Andrew Graham Technical Director of British startup OC Robotics. He issued a warning call to anyone believing that Industry 4.0 would herald the turning point in the robotics and automation marketplace: "The huge market is the consumer one. Perception and cognition are particular challenges, together with the interpretation of all that data. We need to get to the point where we don't need technologists to work with the robots; the point where my Mum can get more out of it."
Additional videos and materials are available on the AUTOMATICA website.
Read the previous articles in the series here.
The ten-part series on European Robotics will be published every two weeks on theSPARC website and Robohub. Funding for the series was provided by RockEU – a Coordination and Support Action funded under FP7 by the European Commission, Grant Agreement Number 611247.