European Robotics: Creating new markets for SMEs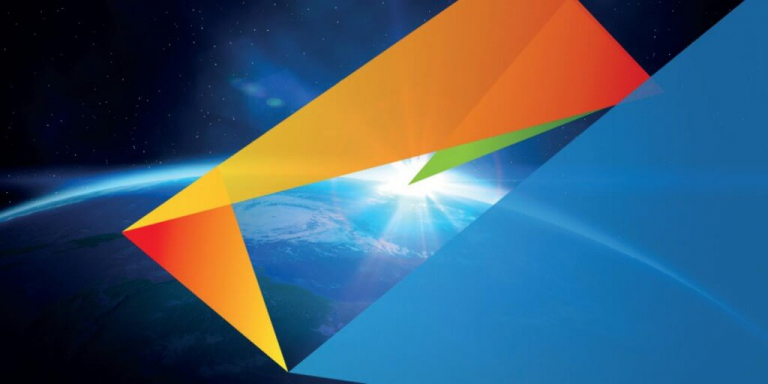 In this original ten-part series, we're putting the spotlight on European Robotics. You'll be hearing from experts about the latest robotics technology with the power to change the way we work, live, and explore new frontiers. Articles will look at 3D printed prosthetics and assistive technologies, robots for minimally invasive surgery and diagnostics, automated farming and mining, and our ability to inspect critical structures in the air and under water. We'll be highlighting the startups and small and medium-sized enterprises (SMEs) that are creating new markets in robotics, or using robots to improve their own productivity. Most important, we will dive deep into questions on everyone's mind, about the impact of robots on policy, the economy, and jobs. Articles will be published every two weeks on the SPARC website and Robohub.
---
Europe's roadmap for robotics, updated last December, highlights a future where robots break from their traditional stronghold in the manufacturing sector to power healthcare, agriculture, transport, civil, consumer, and commercial applications.
Historically, Europe was known for manufacturing and supplying nearly one third of the world's industrial robots, with companies like ABB, Comau, KUKA, and Schunk leading the way. This is changing with a rise in companies worldwide producing industrial robots. There is now a realisation that beyond big industry, SMEs are the powerhouse of Europe.
What usually gets lost is that more than 99% of all European businesses are, in fact, SMEs. They provide two out of three of the private sector jobs and contribute to more than half of the total value-added created by businesses in the EU. Moreover, SMEs are the true back-bone of the European economy, being primarily responsible for wealth and economic growth, next to their key role in innovation and R&D.
The empowerment of SMEs happens by both allowing them to be productive through the use of robotic technology, and by nurturing a new wave of robotics startups that will mature into the next successful robotics companies.
This vision has been reinforced by the very way in which Europe funds robotics projects. In 2014, Europe launched a public-private partnership called SPARC with the European Commission investing €700M, and the private sector represented by euRoboticsinvesting triple that amount. The total of €2.8B is the largest civilian robotics programme in the world. The Robotics Multi-Annual Roadmap, prepared by euRobotics, highlights the needs of the field, and the European Commission uses it as a guideline to fund projects. This strategy has led to a strong integration between academia and industry. It is not uncommon for larger companies to be the leaders of European projects, or to receive a significant portion of the funding. And a number of funding instruments are specifically designed to empower startups and SMEs. A full list of European Projects funded can be found here and here.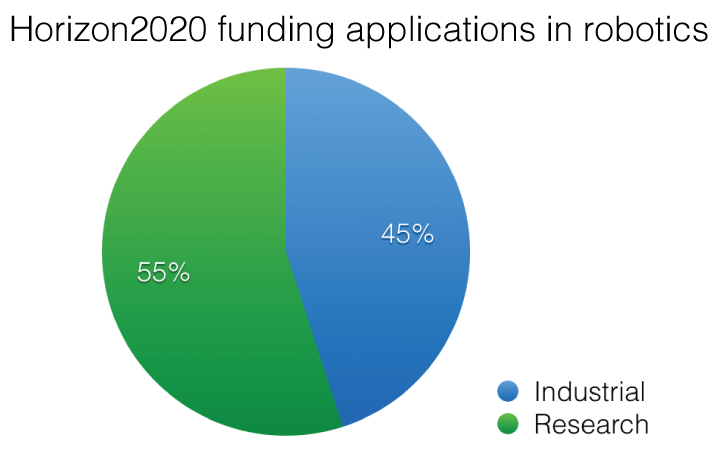 So, what will SMEs be working on? For the most part, focus is on improving quality of life for Europeans with practical solutions to practical problems. The technology is motivated by societal challenges, including: aging populations, healthcare, concern for the environment, and access to resources including food, minerals, and energy.

In healthcare, examples include robots that assist the disabled and elderly in their homes, smart prosthetics, and surgical robots for high-tech operations. Agriculture is being transformed through aerial imaging and sensing, as well as the automation of specific tasks including milking, plowing, and picking. Autonomous cars could have an impact on quality of life and the environment by optimising the use of resources and time, while reducing the amount of energy used. And with tasks such as mining, construction, and high-risk inspection, robots will increasingly be doing the dull, dirty and difficult.
Startups driving these applications are bubbling up from robotics incubators and innovation hubs across Europe. Most recent disruptive companies to emerge include the maker of 3D printed prosthetics Open Bionics, Blue Frog Robotics and their social robot Buddy, and Flyability with their Gimball drone for inspection.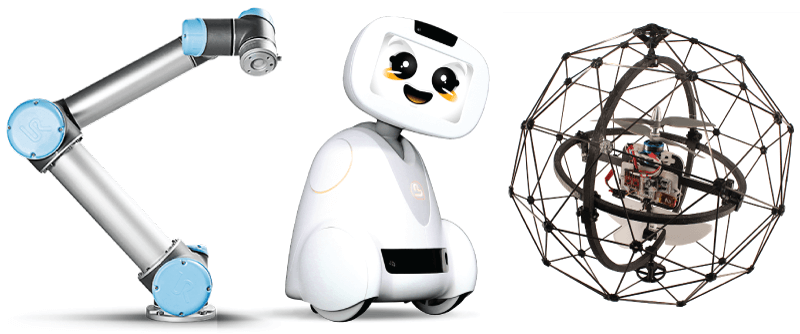 To be successful, SMEs will need to be productive and innovative. "There are relatively few robotic systems designed specifically for the SME market." – Robotics MAR[/tweetquote]. The vision is to make robots that can safely operate near humans and are easy to program through intuitive interfaces. Ideally, the operator would show the robot a new object to manipulate, and then guide it through a series of actions by manually moving its arms, effectively teaching the robot like one might teach a coworker. This would allow companies to readily use their robots on different tasks, without needing a specialised programmer. These so-called co-bots, if cost-effective, could increase productivity and allow for new types of industry that rapidly personalise products to consumer needs or iterate on design. Danish company Universal Robots saw the potential in this market, and quickly grew to become one of the top companies producing co-bots. Universal Robots was sold last year for more than €350M.
The surge in robotics technology is not happening in isolation. Recent advances in the internet of things, and a push towards smart European cities, are leading to new ecosystems in which robotics will play an important role. The key is to integrate with these news areas, and build on recent advances in computation, and increasingly capable sensors and actuators.
Stay tuned for our next article; we'll be demystifying the latest robotics technologies and looking at why robotics is still really difficult.
The ten-part series on European Robotics will be published every two weeks on the SPARC website and Robohub. Funding for the series was provided by RockEU – a Coordination and Support Action funded under FP7 by the European Commission, Grant Agreement Number 611247.
Read all the articles in the series: Focus on European Robotics