Robotics experts meet with decision makers of cities and regions to boost innovation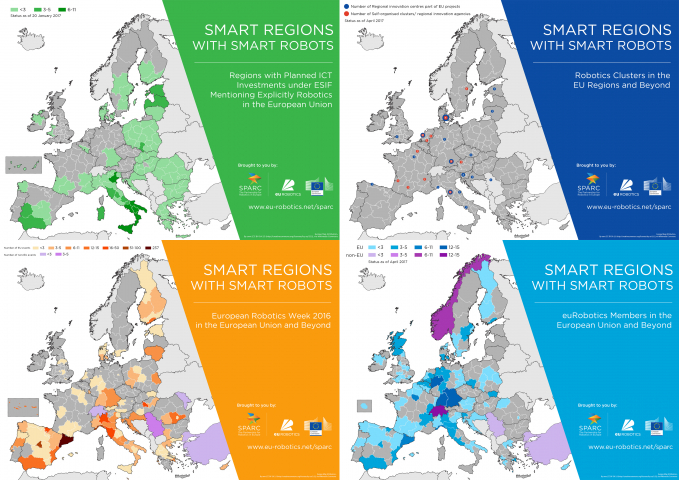 Brussels, 9 May 2017 – About 200 robotics experts and local, regional, and national authorities will consider how to develop regional innovation strategies based on robotics at a meeting in Brussels on 10 May.
The Smart Regions with Smart robots event, at the EU's Committee of the Regions, will discuss how to exploit the particular potential that robotics has for Europe's regions, whether in manufacturing, inspection, agriculture, mining or health, to name a few. Robotics has the potential for raising productivity in every region's specific industrial and civil competencies. Hence, the European Commission's Smart specialisation of regions programme helps regions to foster research and innovation, attract investment, spark entrepreneurship, create jobs, involve local SMEs and authorities, and attract new users to test technology in public spaces.
The EC, strongly supported by the Committee of the Regions, is developing a network of Digital Innovation Hubs (DIHs), which will involve multiple partners cooperating to provide companies with access to digital technologies and expertise nearby within their regions. The EC will provide €500 million from the Horizon 2020 Research and Innovation programme to support the development of DIHs. The Commission wants every region to have a DIH, through which companies, mainly small and medium-sized, start-ups and research and educational institutions can come together to develop competences in digitisation, including robotics, and build on them to boost innovation
At the Committee of the Regions meeting, robotics experts from around Europe and public authorities will present latest robotics applications and successful regional initiatives, and explore funding possibilities and ways for regions to cooperate.
The meeting will be addressed by high level speakers:
Markku Markkula, President of the European Committee of the Regions
Dr Juha Heikkilä,  DG CONNECT, Head of the Robotics and AI unit at the

European Commission
Dr. Bernd Liepert, President of the European robotics association euRobotics AISBL
MEP Mady Delvaux, Rapporteur of the European Parliament report on robotics law
 "Europe's regions and cities play a strategic role in developing and implementing the future of Europe by renewing EU policies. Cities and regions should build on their local strength and develop new competences, expertise and entrepreneurial mindset. Smart regions with smart robots have a great potential for growth. To keep Europe on a sustainable and intelligent path, we should translate new research findings into new market solutions and make new innovations based automation and robotics part of our normal life. The smart cities and regions represented at the meeting are pioneers in areas such as healthcare, transport, energy and circular economy," says Markku Markkula, President of the Committee of the Regions.
"With this event, our goal is to bring together the robotics community with local, regional, national authorities and to join forces at all levels, from local to EU level, in order to exploit all benefits this technology can offer. This directly contributes to our strategy on Digitising European Industry, in particular in stimulating the development of Digital Innovation Hubs," explains Khalil Rouhana, Deputy Director-General, DG Communications Networks, Content and Technology (CONNECT), European Commission.
"Robotics is now sufficiently mature to improve productivity in many industrial and civil applications. This is a particular chance for regions with high unemployment, since robots create jobs, which has been proven by economists. With clever ideas, robots can be set up or designed to help humans, even craftsmen, to bring about positive developments for economy and society. Even industries which have been lost to countries in Asia, but where 'old' competencies still exist, can be brought back with robots, because of the high increase in productivity," says Dr. Bernd Liepert, President of the European robotics association euRobotics.
At the Brussels meeting, three workshops will cover: the impact of robotics on local economies and societies; regional robotics ecosystems success stories; and the development of a network of Digital Innovation Hubs in robotics. Participating regions and cities sharing their success stories are: Odense, Tuscany, Bristol, Ȋle-de-France, Madrid – RoboCity 2030, Andalusia and RoboValley of Delft.
The conference is organised jointly by the Committee of the Regions, the European Commission and the European robotics association, euRobotics.
Read more about robotics and regions:
Smart Robots for Smart Regions (i): Strategies to unleash the potential of the digital economy in Europe
Smart Robots for Smart Regions (ii): Strategies to unleash the potential of the digital economy in Europe
About SPARC - the Public-Private Partnership for Robotics in Europe
SPARC is an initiative to maintain and extend Europe's leadership in civilian robotics. Its aim is to strategically position European robotics in the world, thereby securing major benefits for Europe's economy and society at large.
SPARC leads the driving strategy behind the largest civilian robotics research and innovation programme in the world, with €700 million in funding from the European Commission from 2014 to 2020 and triple that from European industry, to yield a total investment of €2.8 billion. SPARC will stimulate a more vibrant and effective robotics community that collaborates in development and commercial exploitation in all regions.
euRobotics is a non-profit organisation based in Brussels with more than 250 members, representing the Robotics community in Europe.
SPARC is the Public-Private Partnership for Robotics in Europe, between the European Commission and euRobotics.