Technology is a means not an end: Experts on robotics for elderly care at #ERW2016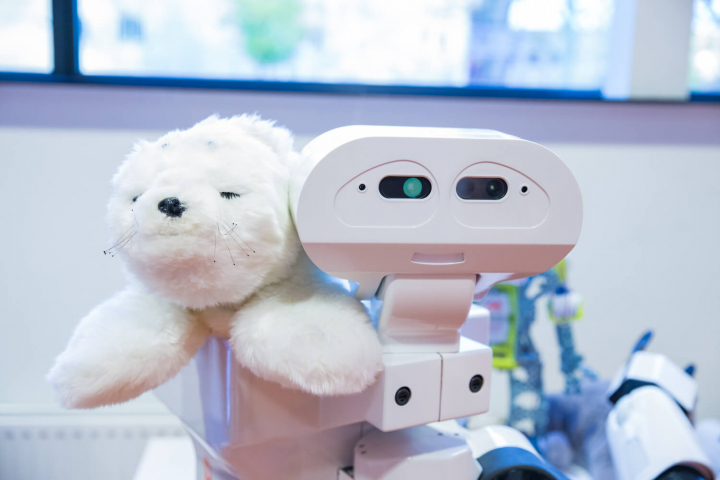 At the pinnacle event, panellists from Robotics for Elderly Care engaged with audience members in a lively discussion about topics ranging from how quickly technology is developing to how perceptions shape how users may interact with new technology. Knowledge exchange, especially with the end user, is crucial to develop better ideas and tech advancements in elderly care. There was also debate on how robotics could help care givers free up time (by doing dull or repetitive tasks) so they could focus on human relationships.
The panel included: Nuray Gokalp (as moderator), Information Technology Manager for City of Amsterdam; Heleen Riper, Professor of eMental-Health at the Department of Clinical Psychology VU University Amsterdam; Marcel Heerink, Associate professor at Windesheim and LaSalle University; Sophia de Rooij, Professor in Internal Medicine, specialized in Geriatric Medicine; Marieke Van Der Waal, Director of Leyden Academy on Vitality and Ageing; and Andreas Argubi-Wollesen, Research Assistance, SmartASSIST.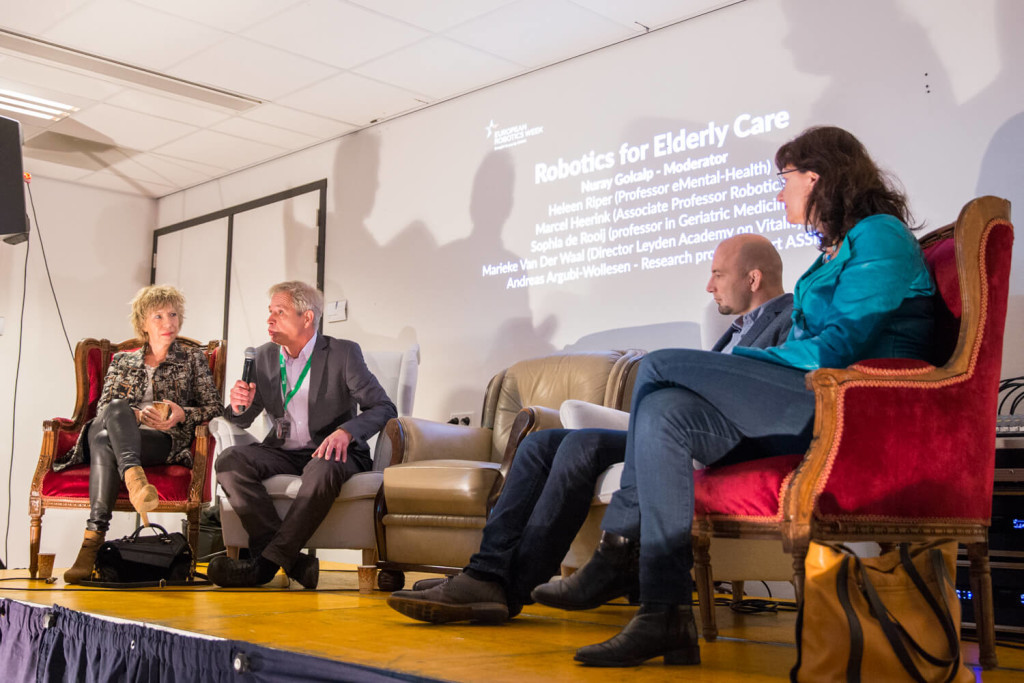 "How do we address challenges like loneliness with the elderly, can loneliness be viewed as a human care problem?" said Nuray. "Are we losing something essential as humans if robots help with elderly care?" "Therein lies a bit of a conundrum," says Marcel. "Do we have robots that only do practical repetitive tasks, and that's it? Do we leave emotional, attentive care to humans?"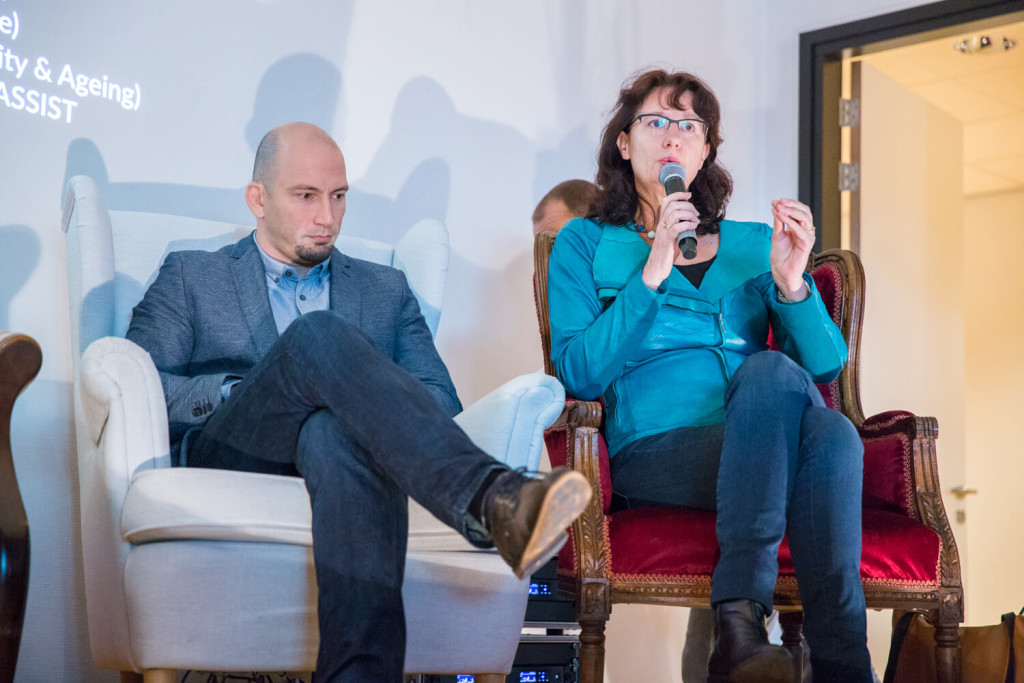 "Technology is a means, not an end," said Heleen. "Will we use robots to help with emotional needs in the future? Perhaps. Maybe it is better to look at it as a personal choice of social preference, depending on the individual." "Robots can be helpful in the future, but personal human interaction are still very important," said Marieke, noting that tablets and cell phones have provided new ways to communicate with family at long distances. "Yes, said Andreas. "No one thought we would interact with cellphones or smartphones like we do now. I think it would be a failure to develop something, and for there only to be one perception of how to use it. We need to give people the tools and see how they would interact with them. It's important from a design aspect."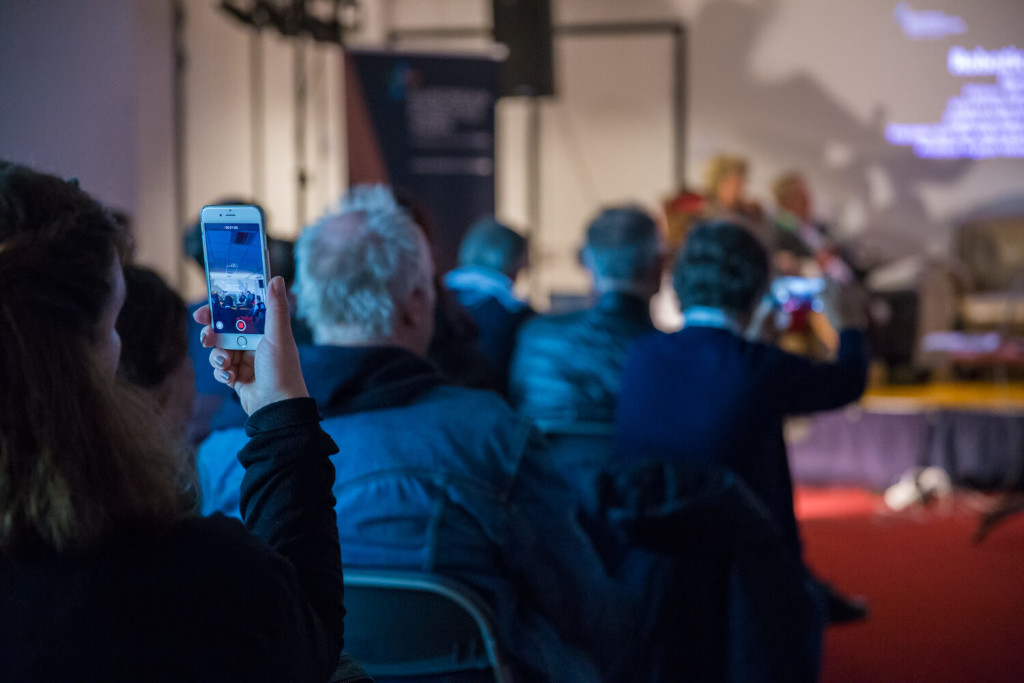 After some initial dialogue, an older audience member remarked that she created a network of unemployed young people and the older generation called "generations in touch" but was looking into scoping funding for projects like this in the community. She enquired about funding and asked if the panel knew of any other avenues that can be used to engage older generations. "Devices need to be adaptive to different individuals and reactive, as each day can be different," said Heleen. "Your calendar age doesn't say much, there's a big difference person to person. For example, your biological age may be 80, but you could feel very active and healthy." "Education on both parts (researcher and user) is a critical piece to create better technology," said Andreas. "We need to put artefacts into the hands of the users. We found that many people thought what we were providing them was like something featured in science fiction and that's often not the case. That's why it is so important to put robots into users' hands and see how they want to use it and create the idea. As researchers, we need to analyse these interactions and how the robot changes user behaviour." "Robots could one day help organize your day, guide you to a shop, help with cooking, taking medicine, possibly," continued Andreas. "Essentially help guide you through your day. Look at it as added value. We need to think of having robots as our assistant, but that is not to say they couldn't possibly also develop as social companions." "In 10-20 years, digital will become physical in robotics", said Sophia. "Physical items will become autonomous, flexible, and able to understand us. This may scare people as machines learn. That's why it's important to have robots that enable human contact, so it's not viewed as a threat, but as support to bring us together."
All images credit: Visual Outcasts
European Robotics Week is organised by euRobotics and brought together by SPARC, a partnership for robotics in Europe to help maintain and extend Europe's leadership in robotics. ERW has attracted more than 200,000 people since 2011 to take part in robotics related activities. During the week, research institutes, universities, industry, and activities are open to the public to engage and learn more about robotics.