Assistive Robots Compete in Bristol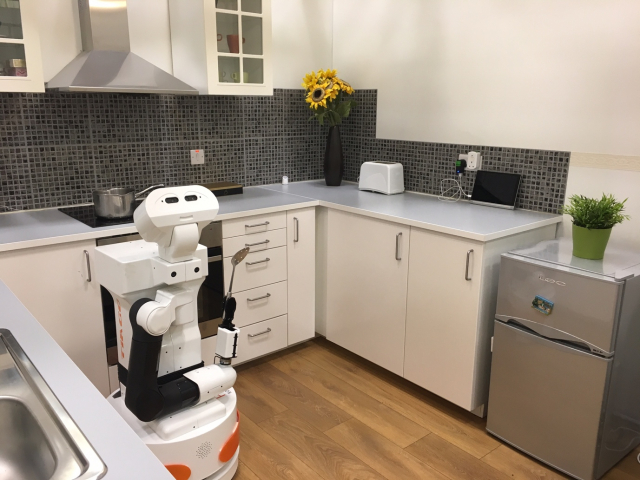 The Bristol Robotics Laboratory (BRL) will host the first European- Commission funded European Robotics League (ERL) tournament for service robots to be held in the UK.
Two teams from the BRL and Birmingham* will pitch their robots against each other in a series of events from 26 to 30 June.
Robots designed to support people with care-related tasks in the home will be put to the test in a simulated home test bed.
The assisted living robots of the two teams will face various challenges, including understanding natural speech and finding and retrieving objects for the user.
The robots will also have to greet visitors at the door appropriately, such as welcoming a doctor on their visit or turning away unwanted visitors.
Associate Professor Praminda Caleb-Solly, Theme Leader for Assistive Robotics at the BRL said, "The lessons learned during the competition will contribute to how robots in the future help people, such as those with ageing-related impairments and those with other disabilities, live independently in their own homes for as long as possible.
"This is particularly significant with the growing shortage of carers available to provide support for an ageing populations."
The BRL, the host of the UK's first ERL Service Robots tournament, is a joint initiative of the University of the West of England and the University of Bristol. The many research areas include swarm robotics, unmanned aerial vehicles, driverless cars, medical robotics and robotic sensing for touch and vision. BRL's assisted living research group is developing interactive assistive robots as part of an ambient smart home ecosystem to support independent living.
The ERL Service Robots tournament will be held in the BRL's Anchor Robotics Personalised Assisted Living Studio, which was set up to develop, test and evaluate assistive robotic and other technologies in a realistic home environment.
The studio was recently certified as a test bed by the ERL, which runs alongside similar competitions for industrial robots and for emergency robots, which includes vehicles that can search for and rescue people in disaster-response scenarios.
The two teams in the Bristol event will be Birmingham Autonomous Robotics Club (BARC) led by Sean Bastable from the School of Computer Science at the University of Birmingham, and the Healthcare Engineering and Assistive Robotics Technology and Services (HEARTS) team from the BRL led by PhD Student Zeke Steer.
BARC has developed its own robotics platform, Dora, and HEARTS will use a TIAGo Steel robot from PAL Robotics with a mix of bespoke and proprietary software.
The Bristol event will be open for public viewing in the BRL on the afternoon of the 29th of June 2017 (Bookable via EventBrite https://www.eventbrite.com/e/assistive-robotics-competition-public-viewing-opportunity-in-the-brl-tickets-35516308234 ), and include short tours of the assisted living studio for the attendees. It will be held during UK Robotics Week, on 24-30 June 2017, when there will be a nationwide programme of robotics and automation events.
The BRL will also be organising focus groups on 28 and 29 June 2017 (Bookable via EventBrite https://www.eventbrite.com/e/assistive-robots-a-workshop-for-therapists-and-care-providers-tickets-35495856061 and https:/www.eventbrite.com/e/assistive-robots-to-support-independent-living-help-shape-the-future-tickets-35505357480), as part of the UK-Robotics and Autonomous Systems Week, to demonstrate assistive robots and their functionality, and seek the views of carers and older adults on these assistive technologies, exploring further applications and integration of such robots into care scenarios.
For more information about this ERL local tournament, please visit https://sites.google.com/site/erlsrbrl2017/competition.
ERL History
The ERL is the natural evolution of a series of highly successful previous competitions that were established via FP7 funded projects: RoCKIn, euRathlon and EuRoC.  All three projects aimed to foster scientific progress and innovation in cognitive systems and robotics through the design and implementation of new competitions. 
The European Robotics League is funded by the European Union's Horizon 2020 Programme for research, technological development and demonstration under grant agreement n° 688441.
Watch the European Robotics League promo video  
www.facebook.com/ERLrobotleague
About euRobotics and SPARC
euRobotics is a non-profit organisation based in Brussels with the objective to make robotics beneficial for Europe's economy and society.  With more than 250 member organisations, euRobotics also provides the European Robotics Community with a legal entity to engage in a public/private partnership with the European Commission, named SPARC.
SPARC, the public-private partnership (PPP) between the European Commission and euRobotics, is a European initiative to maintain and extend Europe's leadership in civilian robotics. Its aim is to strategically position European robotics in the world thereby securing major benefits for the European economy and the society at large.
SPARC is the largest research and innovation programme in civilian robotics in the world, with 700 million euro in funding from the European Commission between 2014 to 2020, which is tripled by European industry to yield a total investment of 2.1 billion euro. SPARC will stimulate an ever more vibrant and effective robotics community that collaborates in the successful development of technical transfer and commercial exploitation.