Barcelona to host an European Robotics League's Local Tournament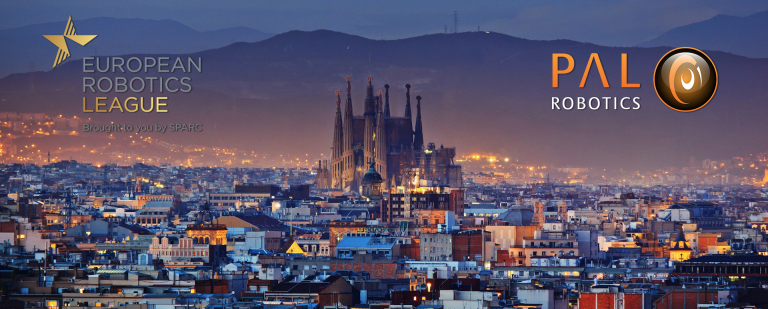 Robots from all over Europe will descend on Barcelona for the European Robotics League's Local Tournament, 21 – 23 November. It's the first time the Spanish city has hosted the European Robotics League (ERL), and it is set to be one of the best attended Tournaments of the 2017/2018 Season.
Today, Catalan company PAL Robotics announces the call for participation in the Local Tournament, which will be held at the company's offices in the centre of the city. The deadline for applications is 30 September, and successful teams will be announced on PAL Robotics' website by mid-October.
Made up of a series of Major and Local competitions, held at certified testbeds across Europe, the ERL is a key touchpoint in the robotics industry's calendar. The Service Robots branch of the competition requires teams to successfully program robots that can navigate a typical home environment and complete set task and functionality benchmarks.
As a Platinum Sponsor of the ERL – Service Robots Competition, PAL Robotics has lent TIAGo Steel robots at just €650 a month to four lucky teams who applied to use the robot to participate in the competition. The company will provide these teams with a free TIAGo Steel to use during the Tournament. As a result, it is expected that a large number of teams will participate.
The TIAGo Steel is a collaborative robot with a mobile base, 14 degrees of freedom, 6kg payload arm and gripper. Sold for around €49,000, the robot is an ideal platform for research into sectors such as healthcare and assisted-living.
For more information, please visit the Local Tournament's website, or contact:
Carlos Vivas
+34 93 414 53 47
About the ERL Service Robots tournament
The European Robotics League (ERL) Service Robots is one of three leagues organised by the ERL to address the societal challenge of an ageing population, strengthen the European robotics industry and push the state of the art in autonomous systems for emergency response.
The 2017/2018 Season is made up of Major and Local Tournaments across Europe. PAL Robotics is the organiser of the Local Tournament to be held in Barcelona during European Robotics Week, 20–26 November 2017.
Final scores for the tournament will be based on aggregate Task Benchmark and Functionality Benchmark scores. Prizes for the whole Season will be awarded during next year's European Robotics Forum (ERF).
About PAL Robotics
PAL Robotics' mission is to create disruptive service robots that work alongside humans to enhance society's quality of life and solve everyday problems. The company designs and manufacturers highly customizable, reliable platforms and modular robotic parts that adapt to the needs of the user.
With over 10 years' experience in the industry, PAL Robotics is now one of the leading global providers of robotic platforms for research.