The European Robotics League (ERL) is a series of competitions taking place across Europe in different fields: ERL Service Robots, ERL Industrial Robots and ERL Emergency Robots. ERL Service Robots 2017 focuses on the domain of service robots for application in the home.
PAL Robotics, as Platinum sponsor of the ERL Service Robots competition, is offering to loan up to three TIAGo Steel robots for €650 a month, excluding taxes. The company will also supply a fourth TIAGo Steel for free to a team which shows outstanding expertise and innovation in their application.
Deadline for applications is 30th June 2017. Teams will be able to collect their robots from the PAL Robotics office in Barcelona by mid-July.
The teams must compete in at least one of the tournaments of the ERL Service Robots competition. One of those competitions will take place in Barcelona from 17 to 26 November 2017 and will be organized by PAL Robotics. In order to assist with transport cost and logistics, PAL Robotics will have one TIAGo Steel unit available for teams at the Barcelona tournament.
PAL Robotics will also deduct the paid rental fees from the €49,900 cost of a new TIAGo Steel if any team wishes to buy and keep its platform after the contest.
Applying for a TIAGo
● Applicants must be registered or must register to participate in ERL Service Robots 2017.
● Teams, of up to 10, may comprise of any combination of students, academics, industrial or public sector members. Students may be undergraduate or postgraduate students. Inter-disciplinary teams are encouraged.
● Team members must be based in the European Union.
● Teams might be asked to complete a simple simulation test with TIAGo as part of the application.
● PAL Robotics encourages teams with previous experience in robotics to apply. The teams will have to prove their potential in autonomous navigation and control.
● Applications will be evaluated by ERL Service Robots and PAL Robotics.
● The chosen teams will be announced on PAL Robotics' and/or ERL-Service Robotics' website by the end of June. Decisions will be final.
● Applications must be sent electronically, with documents printable on A4 paper, with margins of at least 25mm on all sides and 10 point font or larger. PDFs are preferred.
● Applications must include:
Contact details for the team leader. University teams must also supply contact details for an academic supervisor.
A one-page executive summary of the application.
The team's motivations behind their application.
One-page financial summary of the team's proposed income and spending.
One-page CVs of the team members.
A detailed description of the team's specialisms and expertise, as well as past research and other achievements (limited to two pages).
Videos of past achievements (with real robots or simulators).
Detailed descriptions of how the teams plan to use the TIAGo Steel to fulfill the tasks in each contest scenario, and the algorithms that will be used.
● Applications must be emailed to Dr. Jordi Pages at tiago@pal-robotics.com, with a copy sent to Prof. Pedro Lima at pal@isr.tecnico.ulisboa.pt.
● The deadline for applications is 20:00 CET on 30 June 2017.
Conditions
● Each selected team will sign a TIAGo rental contract with PAL Robotics for a period of at least three months.
● The monthly rental fee for the TIAGo will be €650, excluding taxes or duties.
● Each contracted team undertakes full responsibility to return the robot in good condition at the end of the ERL Service Robots 2017 competition, or upon the request of PAL Robotics. This includes a commitment to cover the costs of any damage or repairs, up to the full replacement cost following complete loss of the equipment.
● Each contracted team must therefore take out their own damage and loss insurance for the robot and associated equipment.
● The cost of the TIAGo Steel robot with sensors/actuators and electronics is €49.900,00.
● If a team wishes to purchase its rented robot, the paid rental payments will be deducted from the purchase price.
● Each team must have previous experience in robotics and a minimum expertise in Robot Operating System (ROS) middleware. Each team must prove their potential in autonomous navigation and control.
● In order to ensure teams are able to use the robot, PAL Robotics may request that the teams demonstrate the robot's basic functionalities at any time during the rental period.
● Failure to participate in at least one ERL Service Robots tournament will result in termination of the team's rental agreement.
● Each team must use the TIAGo's software security systems: time-outs, joint limits, etc. Modifying or disabling the security systems will lead to termination of the rental agreement and the return of the robot to PAL Robotics.
● All trials must be performed in safe, enclosed areas.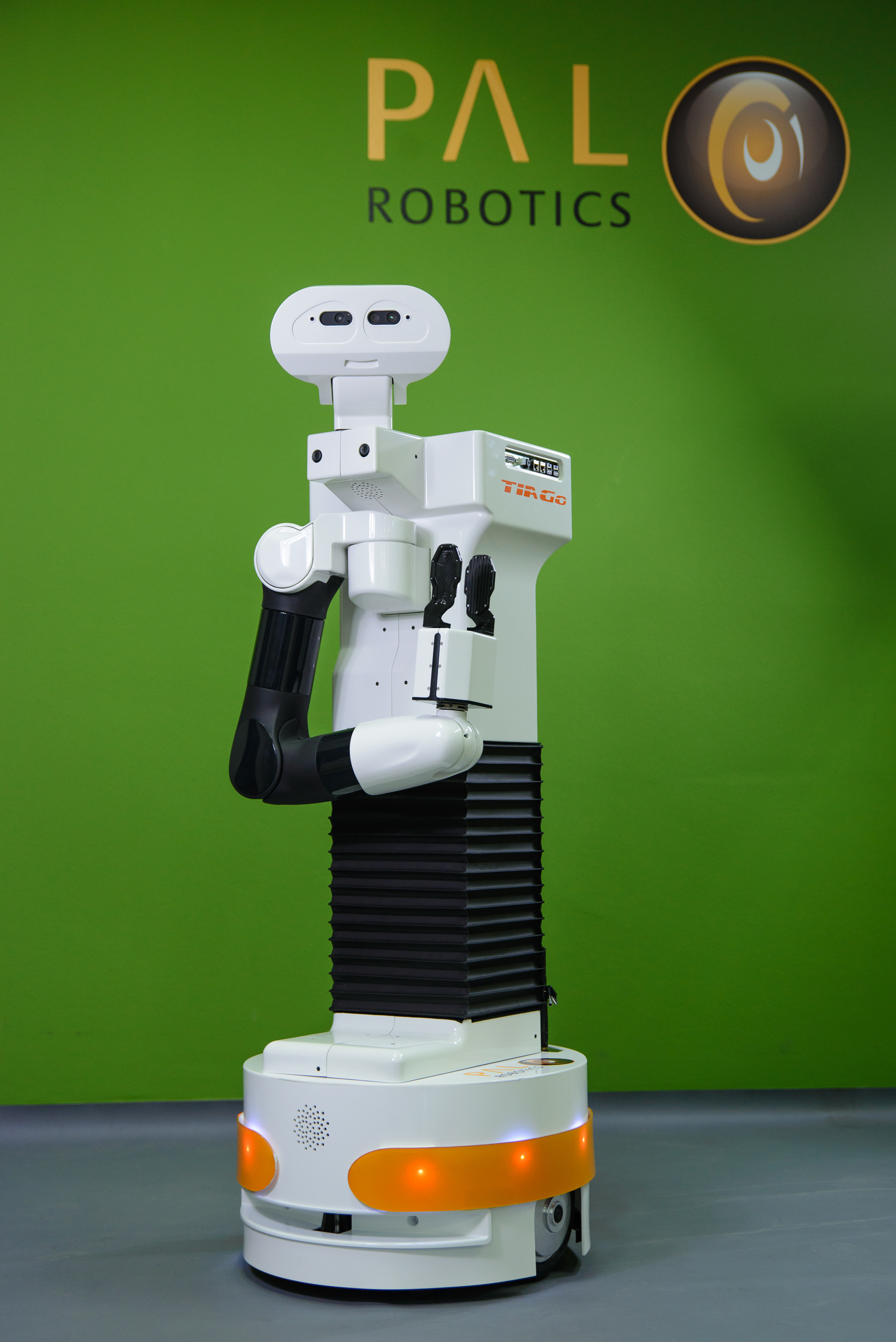 Photo: TIAGo Steel robot. Copyright: PAL Robotics
TIAGo Steel specifications
Standard open interfaces using the Robot Operating System (ROS) middleware.
Capabilities for navigation, grasping, perception and HRI.
Remotely programmable.
High degree of flexibility/diversity (sensors, missions, operating modes).
Ability to integrate external sensors.
Height: 110-145cm
Weight: 70kg
Footprint: 54cm diameter
14 degrees of freedom:

torso: 1
mobile base: 2
head: 2
arm: 7
gripper: 2
Energy: 36V, 20Ah Li-ion batteries
Endurance: 8 -10 hours
Arm payload: 3kg (without end effector)
Arm reach: 87cm (without end effector)
Torso lift: 35cm
Max. speed of mobile base: 1m/s
Connectivity:

802.11n/ac 2x2 dual-band wi-fi
Bluetooth 4.0
Ethernet
Sensors:

Laser 5.5m range
6 degrees of freedom IMU
Motor current feedback actuators
Stereo microphones
RGB-D camera

Computer:

i5 Haswell
4GB RAM
120 GB SSD
Software: 100% ROS compatible (ROS LTS version)
Expansion panel with:

Laptop tray
Mounting points
1x USB 3.0
1x USB 2.0
2x gigabit ethernet
12V/5A power supply

Included accessories:

Battery charger
Transportation box
Options (some available to purchase from PAL) that can be integrated with TIAGo Steel:
Force/torque sensor at the end of the wrist
5-finger anthropomorphic hand
Other software packages
Training
Further information
For details of the ERL go to: http://robotics-league.eu/
For detailed information about the TIAGo Steel, go to: http://tiago.pal-robotics.com
For further information, contact:
Dr. Jordi Pages
PAL Robotics S.L.
+34 934 145 347
e-mail: tiago@pal-robotics.com
Website: http://pal-robotics.com/en/home