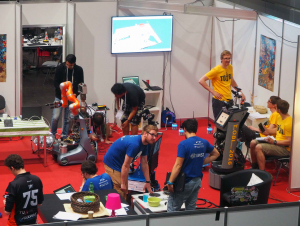 ERL Consumer Local Tournament, Peccioli 2017
The European Robotic League Service Robots is an innovative concept for robot competitions. The ERL is composed of multiple Local Tournaments, held in different research labs across Europe, with certified test beds, and a few competitions as part of Major Tournaments, such as RoboCup.

The ERL Service Robots tournament stems from its predecessor, the RoCKIn@Home competition, and focuses on the domain of service robotics for home application.

Local organisers :
Sapienza University of Rome, Italy
ECHORD++ RIF from the BioRobotis Institute, Scuola Superiore Sant'Anna, Italy.

Target audience
Participants:
International teams (research, industry).

Spectators:
All age ranges, young and adult audience.

The ERL Service Local Tournament is open to the public and anyone interested can attend as spectator. The venue has a small capacity, so the number of places available is limited. Spectators need to register and the entrance is free. Please, contact the local organisers to book your place.

Please note that minors must be accompanied by a responsible adult at all times.
European Robotics League (ERL)
Prof. Luca Iocchi
iocchi@dis.uniroma1.it
+39 06 77274 121
Peccioli
Peccioli
Italy