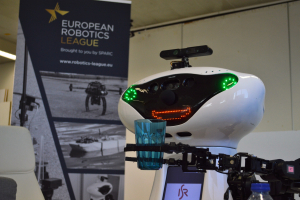 ERL Consumer Local Tournament, Lisbon, PT, 2019
The third European Robotics League (ERL) Consumer Service Robots tournament of the 2018/19 season will take place from the 5th till the 8th of February 2019 in Lisbon, Portugal, at the ISRoboNet@Home Test Bed located in the premises of the Institute for Systems and Robotics of Instituto Superior Técnico, University of Lisbon.

A maximum of 4 teams will compete and cooperate to advance research on consumer service robots through a scientific competition.

The teams and their robots will perform different ERL Consumer Task and Functionality Benchmarks. The ones available in this tournament are:

TBM1: Getting to Know My Home
TBM2: Welcoming Visitors
TBM3: Catering for Granny Annie's Comfort
TBM4: Visit My Home

FBM1: Object Perception
FBM2: Navigation

For more information about the Lisbon 2019 ERL Consumer tournament, including the competition rules and how to reach the venue, visit https://sites.google.com/site/erllisbon2019/

Registration is now open.
Institute for Systems and Robotics, Instituto Superior Técnico, University of Lisbon (IST-ID)
Pedro U. Lima
+351 218 418 274
ISRoboNet@Home Test Bed, Institute for Systems and Robotics
Lisbon
Portugal